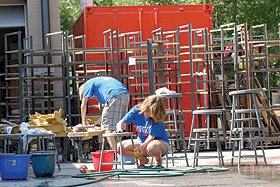 At Augsburg, there is little question that Auggies give back to their community. In the 2008-09 school year, it was estimated that Augsburg students performed 67,000 hours of community service, most of which took place within a mile of campus.
That total is the equivalent of 2,791 24-hour days or 8,375 eight-hour work days, a staggering total for a college with 2,000 Day College undergraduates and 4,000 total students.
That commitment to the community and the Cedar-Riverside neighborhood is part of the reason why Augsburg was named to the 2009 President's Higher Education Community Service Honor Roll with Distinction. While Augsburg is listed by U.S. News and & World Report as one of the top 25 schools in the country for service learning and has received the Carnegie Classification for Community Engagement, the President's Honor Roll is the highest federal recognition an institution can receive for its commitment to volunteering, service-learning and civic engagement.
Augsburg is the only college or university in Minnesota and one of only four ELCA institutions named to the Distinction list. Institutions were chosen based on a number of factors including the scope and innovation of service projects, the percentage of student participation in service activities, incentives for service, and the extent to which the school offers academic service learning courses.
"We are very proud and honored to be included in the PresidentalHonor Roll," Augsburg College President Paul C. Pribbenow said. "Civic work and serving our neighbor are at the core of Augsburg's efforts to educate students for democracy."
Last school year, 900 Augsburg students participated in service learning and 1,200 students participated in more than 20 hours of community service per semester. Much of Augsburg's community service takes place in course-embedded service learning. In addition, Bonner Leaders, who are paired with non-profit community organizations, contributed nearly 5,000 hours of service while students involved in Campus Kitchen volunteered more than 3,000 hours of their time.
Nationally, college students make a significant contribution to the volunteer sector. In 2009, 3.16 million students performed more than 300 million hours of service, according to a study done by the Corporation for National and Community Service.
Other ELCA institutions named to the Distinction list were Muhlenberg College in Allentown, Pa.; Wartburg College in Waverly, Iowa, and Wittenberg University in Springfield, Ohio. Fourteen other Minnesota institutions were listed on the broader Honor Roll.