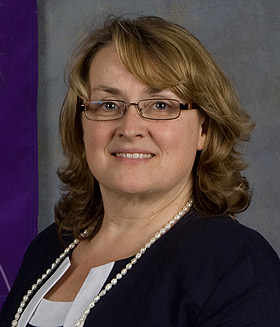 Augsburg College announced Tuesday that it has named Tammy McGee to serve as its Vice President for Finance and Administration and Chief Financial Officer.
McGee, who has a strong background in higher education, will assume a key leadership position at Augsburg. She will work on the college's continued long-term financial planning, oversee facilities and human resources, and work with faculty and staff colleagues to assess new opportunities for program growth.
"I am thrilled that Tammy McGee will join Augsburg as our new Vice President for Finance and Administration and Chief Financial Officer," Augsburg president Paul C. Pribbenow said. "Tammy brings to this critical position a combination of extensive finance experience in higher education, a passion for teaching and learning, and a deep commitment to the role of a college of the church in a city. Tammy has the skills to build on our strong foundation of financial discipline and to bring her own vision and innovative spirit to bear as a partner in moving Augsburg to an even stronger position with its human and financial resources."
McGee has served as CFO, Vice President for Finance and Administration at St. Catherine University in St. Paul since July 2004. Before that, she held a similar position in the Minnesota State Colleges and Universities system at Minneapolis Community and Technical College.
"I have watched the progress made at Augsburg for quite some time," McGee said. "I really look forward to working with President Pribbenow, the Board of Regents and new Augsburg colleagues, to advance the college's distinctive mission and vision of access and excellence in higher education."
McGee succeeds Vice President and CFO Kevin Myren, who is now the CFO at CommonBond, a housing agency in St. Paul
McGee has degrees in finance and economics from St. Cloud State University and a MBA from the University of St. Thomas.