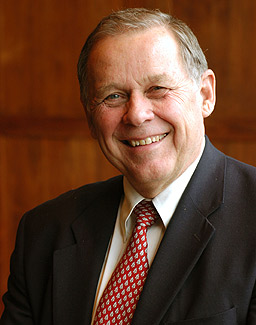 David Tiede is retiring as Augsburg's Bernhard M. Christensen Chair in Religion and Vocation at the end of this academic year. But he has – in his words – flunked retirement again.
That is because Tiede has accepted an appointment as the interim president of Wartburg Theological Seminary in Dubuque, Iowa, beginning July 1.
"I was going to retire," Tiede said. "We just had this lovely retirement party at President Pribbenow's house. And then, five days later, I took this new job.
"When I came to Augsburg, we agreed I would hold the Christensen chair between three and five years on a part time arrangement. The grace with which Augsburg has received and accepted my work over the last five years has been magnificent, and now Augsburg has appointed an outstanding person to hold the chain on a full time basis, as we had hoped."
Tiede served as the president at Luther Seminary from 1987-2005. He remains President Emeritus and professor New Testament at Luther Seminary.
"Dr. Tiede has graciously accepted the offer to lead the board during a transition period that will set new directions for Wartburg Theological Seminary," Rita Dudley, Wartburg Theological Seminary board chair said in a release.
Wartburg officials said that Tiede will serve as an advocate for the institution's strengths and continue to build relationships internally and externally. Tiede's role as interim president begins as current President Duane Larson begins his retirement at the end of June.
"Wartburg Seminary's voice and vocation in forming valued leaders is critical to the future of the ELCA. The board's understanding of this ethos brings energy to our future planning. We look forward to working with Dr. Tiede in proactive ways to re-shape Lutheran theological education in the next ten years," Dudley said.
Wartburg Theological Seminary is one of eight theological schools of the Evangelical Lutheran Church in America (ELCA). Wartburg is accredited by the Association of Theological Schools and educates women and men to serve the church as ordained and lay leaders. Established in Dubuque, Iowa in 1854, Wartburg Theological Seminary is in its 156th academic year.