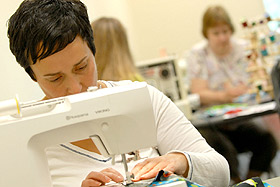 It's safe to say that many Auggie staff and faculty serve others, both in their work at Augsburg and outside of campus. Because of the College's commitment to serving the community, the Staff Senate opted this year to include service projects in the days leading up to the annual staff picnic.
This week, staff and students volunteered their time in four different projects in the community. Thanks to everyone who helped make these community service days a success!
Feed My Starving Children
On Monday, 15 volunteers from Augsburg boxed 109 boxes of pre-packaged food to feed 65 kids for one full year. The food they packaged will be sent to Port-au-Prince, Haiti.
Gardens
Members of the Augsburg community spent two mornings this week working in gardens. On Monday, the greenhouse in Augsburg's Community Garden was weeded and new mulch and compost was laid. On Tuesday, additional volunteers headed over to the Korean Community Peace Gardens in the Cedar Riverside neighborhood to weed. There they learned about the history of the garden and the special plantings that are done there from one of the leaders of the Korean community.
Project Linus
On Tuesday afternoon, a group of 10 crafty Auggies cut and stitched quilts for Project Linus, an organization that distributes handmade blankets to children who are hospitalized or in shelters. The completed Augsburg quilts will be sent to Project Linus headquarters in Illinois before being distributed to children.
Books for Africa
Eight Augsburg volunteers spent Wednesday morning at the Books for Africa warehouse in St. Paul sorting books to be sent to schools and libraries in Africa. The books and textbooks are donated from local schools and libraries and volunteers. Books for Africa staff work to organize and pack books for shipments.
Inside Augsburg showcases the experiences of Augsburg College students, alumni, staff, and faculty. Send your story idea to marcomm@augsburg.edu.