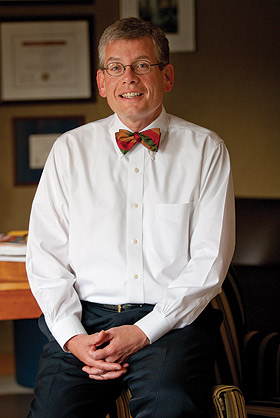 Editor's Note: On Tuesday afternoon, the Cedar-Riverside and Seward neighborhood will be filled with first-year Auggies, faculty members, staff members, and members of President Pribbenow's Cabinet. Why is service important?
In his latest blog post, President Pribbenow addresses that question. A copy of the blog post is below. Find "Paul's Blog" on the Augsburg College President's webpage.
Education and service
On Tuesday, the Augsburg community will honor its historic commitment to "Education for Service" as we participate in our long-standing "City Service Day." On that day, more than 500 Auggies—students, faculty and staff—will fan out across the Twin Cities to be of service to our neighbors. It is a wonderful spectacle as we don our colorful t-shirts and work with our hands—painting, tending gardens, packing school supplies, doing whatever is asked of us at one of 25 sites where our volunteer efforts will illustrate our deep belief that education and service are inextricably bound together.
But this is more than a show of voluntarism (as impressive as it is!), this is a powerful way in which we begin to model for our students what it means that learning and service go together, a relationship that is central to their Augsburg education and experience.
So what is it that we believe "City Service Day" teaches us?
First, it is the important value of mutuality. If service is simply our meeting the needs of others, then we have missed a critical point. When we engage in service, we are entering into a relationship that is premised on shared needs and aspirations. Tending the garden of the Korean elders who live in the Cedar-Riverside neighborhood is not simply about getting rid of weeds, it is about our shared commitments to adequate and nutritious food. It is about the herbs grown there to help heal. It is about the peace and calm that we find in a garden in the midst of a busy city.
Second, it is the importance of engaging those who are different than we are and learning from them. In the city, we encounter strangers from all walks of life and backgrounds. As we meet and work with them in these service projects, we are introduced to their cultures, experiences and values. We learn about what it means to live in a homeless shelter or what it is like to be an immigrant in a new land. We learn how important it is to be open to learning from the many and diverse experiences we share with our neighbors who are negotiating their lives with us in the city.
Finally, it is the value of self-reflection. Our service projects include time during and after the experience for all of us to consider how I felt, how my values were affirmed or challenged, what I learned about myself as I engaged in serving my neighbor. Here is the heart of a liberal arts education—the life well-examined. Here is where education and service are bound up together, offering us the tools we need to live as informed citizens, thoughtful stewards, critical thinkers and responsible leaders.
All of these important lessons—and a lot of fun as well!