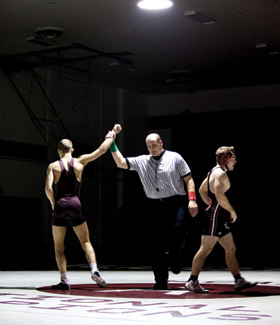 The Augsburg College wrestling program will celebrate the history of three championship teams with a reunion celebration on Friday, Feb. 4 as a part of the team's dual with Wartburg College, a highly anticipated meeting also known as the "Battle of the 'Burgs."
Dubbed the "Reunion of Ones," the Auggies will celebrate the 1961 Minnesota Intercollegiate Athletic Conference championship team — Augsburg's first of its 30 MIAC team championships — and its 1991 and 2001 NCAA Division III national championship squads prior to the Auggies' dual meet with Wartburg.
The Augsburg-Wartburg match will begin at 7:30 p.m., with the three championship teams honored on the mat during intermission (after the fifth bout of the evening).
In addition to the Augsburg-Wartburg match, there will also be a high school dual meet between Coon Rapids and Albert Lea that will begin at 5 p.m. at Si Melby Hall.