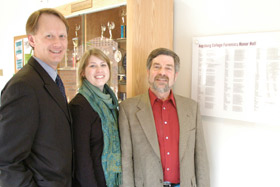 This week the Augsburg College Department of Communication Studies and the Augsburg forensics team installed a commemorative plaque to highlight the achievements of students who have participated on the team. The new "Forensics Honor Roll" is next to the speech team trophy case in the Foss Atrium.
Augsburg forensics director and professor of communication studies, David Lapakko, says people don't usually know what is involved with "forensics" in this sense. "With shows like CSI on television these days, people often misunderstand the term. Yes, there is forensic medicine, but forensic rhetoric involves issues of attack and defense, as in a courtroom."
Augsburg's forensics program began in 1987. Currently Augsburg is the only ACTC school with an active contest speaking program. Augsburg students have qualified for final rounds at tournaments on 157 occasions—87 different students overall. To advance to a final round, speakers normally have to be among the top six contestants in their event.
Lapakko was director of the program from 1987-1997; Bob Groven was director from 1997-2006; Kristen Chamberlain was director from 2007-2009; and Lapakko returns this year after a 13-year absence from the position.
Augsburg is a member of the Twin Cities Forensic League and attends 6 TCFL tournaments every year, along with some weekend overnight trips. Members of TCFL include Bethel, Gustavus, MSU-Mankato, Normandale CC, Northwestern, University of Northern Iowa, Ripon, St. Cloud State, South Dakota State, Southwest Minnesota State, UW-Eau Claire, UW-River Falls, UW-Stout, South Central Tech, and St. Olaf.
Students compete in eleven different events—six are "public address" events (informative speaking, persuasive speaking, after dinner speaking, extemporaneous speaking, impromptu speaking, and communication analysis), and five are "interpretation" events (prose interpretation, poetry interpretation, dramatic interpretation, dramatic duo, and program oral interpretation).
The speech season starts in October and ends in March. It is still not too late to be involved; contact Prof. Lapakko at ext. 1722 if you are interested.