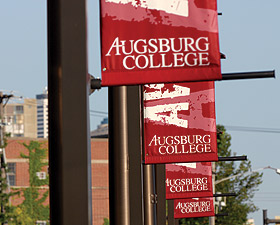 This summer and fall, Augsburg will introduce two new graduate program offerings: the Integrated Graduate Studies Master of Arts in Leadership and a graduate certificate in Social Entrepreneurship.
Though online education is certainly not a new concept, the higher education community has been somewhat reluctant to adopt the model. At Augsburg, this will change with the implementation of the integrated graduate studies Master of Arts in Leadership (MAL) program set to launch in August.
The integrated MAL builds on the strengths of the classic program model while also incorporating online learning as a significant portion of the curriculum. In this two-year cohort program, students will meet for five-day "intensive" face-to-face experiences at the program launch and at the midpoint. They will continue their coursework primarily online and supplement their instruction with monthly on-campus meetings.
According to Lori Peterson, dean of graduate and professional studies and a member of the program steering committee, the MAL integrated studies program fits well with the mission and "feel" of Augsburg College. It also allows the college to respond to market demands in higher education.
"This is authentic Augsburg at it's very best: a leadership program that combines experiential learning in the city and in the world, vocational discovery, dynamic content, outstanding faculty who are leaders in their fields, and Augsburg's ability to create degree formats that work for working adults into one fabulous learning opportunity," Peterson says.
Garry Hesser, a sociology and metro and urban studies professor who has also taught in the MAL program for many years, has developed the launch "intensive." The course, titled "Responsible Leadership for the 21st Century" will use the pillars of Augsburg's mission to frame a study of leadership. Students will examine social issues through immersion in the city and specifically in the Cedar-Riverside neighborhood.
The graduate certificate in social entrepreneurship is designed for students interested in obtaining the skills and competencies necessary for the entrepreneurial pursuit of social impact; recognizing the unique challenges, opportunities, and qualities associated with trying to create social value.
Bruce Batten, MBA associate director, says the this interdisciplinary program will support the goals and spirit of Augsburg College, bringing together diverse disciplines to work on projects that have social impact both locally and globally.
The program, which combines courses from Augsburg's Master of Arts in Leadership, Master of Social Work, and Master of Business Administration programs, is for students who aspire to be social entrepreneurs, executives in social-purpose organizations, philanthropists, board members, or leading volunteers in their communities and the social sector. It will also appeal to students interested in incorporating strategies for social impact into their business and entrepreneurial careers.