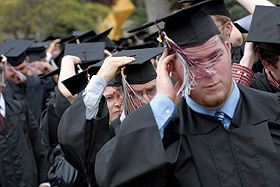 Augsburg's Commencement ceremonies this academic year—Saturday, May 7, and Sunday, June 26—are organized around the theme of responsible leadership. Augsburg will welcome global leaders to challenge and encourage graduates as they begin their lives beyond Augsburg.
Commencement on Saturday honors the 431 day semester students and 29 physician assistant graduate students who are eligible to graduate. The Marina Christensen Justice Award, recognizing a graduating student who has demonstrated a dedication to community service and has reached out to disadvantaged communities, will be given out. This year's student speaker representing the Class of 2011 will be Ali Rapp.
The Commencement speaker on Saturday, Kjell Magne Bondevik has long been regarded as a world leader in the promotion of democracy and human rights. He is an ordained Lutheran minister who chose instead a career in politics. His service in the Norwegian Parliament and government for more than 30 years includes two terms as prime minister. His policies were recognized for emphases on gender equality, diplomacy, and social welfare. In 2006, Bondevik founded the Oslo Center for Peace and Human Rights, which aims to promote responsible leadership and to strengthen civil and democratic practice, religious freedom, and the rights of minorities and women globally.
Both Bondevik and The Reverend Ishmael Noko, Zimbabwean theologian and former general secretary of the Lutheran World Federation, will receive honorary Doctor of Humane Letters degrees at Saturday's Commencement ceremony.
Rev. Noko received his undergraduate education in theology in South Africa, and earned master's and doctoral degrees in Canada. He taught and was an administrator at the University of Botswana prior to his call to serve at the Lutheran World Federation. He is also the founder and president of Inter-Faith Action for Peace in Africa, which brings together religious communities across the African continent for interfaith dialogue and action.
The Commencement on June 26 honors Weekend College, Rochester, partner hospital, and graduate students in six programs. Master's degree graduates include those in education, leadership, nursing, business administration (MBA) and social work. Also graduating this year are Augsburg's first doctoral students, eight nurses earning a Doctor of Nursing Practice degree.
The Commencement Day schedule is:
9 a.m., Baccalaureate, in Hoversten Chapel
11 a.m., Commencement Ceremony, in Si Melby Hall
12:30 p.m., Department Receptions, at various locations on campus
Go to the Commencement 2011 website for complete information.