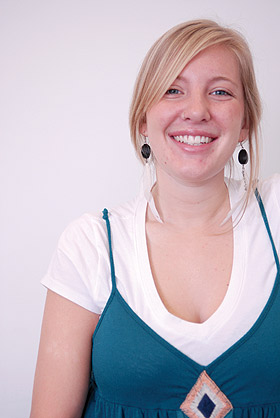 Claire Bergren '12, a political science major with a concentration in public policy and global change, minor in peace and global studies, has received a Newman Civic Fellow Award. She is one of 135 students from 30 states who were recently named by Campus Compact to receive this award.
The Newman Civic Fellow Award recognizes students on college campuses who are doing civic engagement work and trying to better their community through service.
Bergren has been involved with the Bonner program for the last three years, working with organizations including Project Footsteps and the Redeemer Center for Life.
As a sophomore, Bergren and two other Bonner Leaders spearheaded an initiative to gather information on people and organizations that could share their assets or resources with young people. "The idea was that no young person should be left behind with all the resources we have," Bergren says.
She met with people in neighborhoods throughout Minneapolis. "I learned that everyone has something to offer, whether it's guitar lessons or food or transportation."
This project guided Bergren in her second Bonner placement with Redeemer Center for Life in the Harrison neighborhood of North Minneapolis. She did asset mapping, talking with people about the assets they viewed as valuable in their community. Her report included economic development on Glenwood Avenue, positive youth hangouts and gathering spots, and childhood or educational services. "I think we helped to dispel some of the misconceptions about neighborhoods and show people that there was value in their neighborhood," she says.
For the last semester, Bergren has been working at Hope Community on Franklin Avenue as the program coordinator for a Saturday morning tutoring and mentoring program called Learning in Communities.
This summer she will return to the Harrison neighborhood to create and implement a youth leadership program. The plan is to gather 15-20 young people and meet with them weekly to help them gain leadership skills.
"We want to do that in unconventional ways," Bergren says, "like through going to theatre or creating theatre." She hopes that she can help young people find ways to change or fix issues using events that have happened in their neighborhood that have perpetuated the cycle of oppression or reinforced stereotypes.
"We want to make a program that they can really invest in and by the end be empowered to find a leadership role in their neighborhood or create some kind of social change project," she adds.
Bergren will have to leave the Harrison project for a short time in June in order to travel to Norway and participate in the Nobel Peace Scholar program. In addition to her involvement as a Bonner Leader and a Peace Scholar, Bergren is also a Sabo Scholar, a volunteer at Cedar Cultural Center, and a student in the Augsburg Honors program.