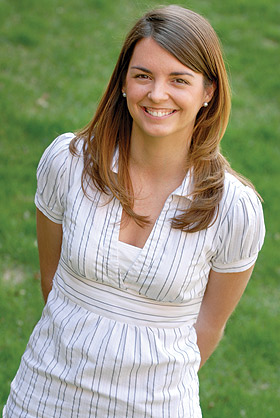 Jennifer Oliver, a Master of Arts in Education student, is one of Augsburg's newest Fulbright Scholars. This September, Oliver will travel to Darmstadt, Germany and will teach English there for nine months. She is one of more than 1,600 U.S. students traveling abroad in the 2011-12 academic year through the Fulbright program.
A 2007 Augsburg graduate who studied English, art history, and German, Oliver has worked as a staff member at Augsburg but has wanted to explore a career teaching or advising students. "I think I have known for a really long time that education was going to be my path, I just didn't really know in what capacity."
After graduation, Oliver began working in the student financial service center at Augsburg and began her master's program shortly thereafter. She says the MAE program allowed her to pursue a career in education and eventually led her to apply for the Fulbright teaching award.
"Teaching abroad has always been an aspiration of mine," she says. Growing up in a multicultural family—her mother is Croatian and her brother was born in Germany—Oliver was always interested in people of different cultures. She traveled to Thailand as an undergraduate student to teach English with professor Kathy Swanson on a faculty-led summer program and also spent time abroad with family after college. "It felt like I was sort of destined to do this eventually."
Oliver feels like the Fulbright teaching opportunity has come at the perfect time. "I am at the point of finishing my master's and figuring out what I want to do. This may open doors for me in areas where I am passionate," she says.
While she appreciates the recognition that goes with receiving the Fulbright scholarship, Oliver wants to give accolades to Dixie Shafter and Andrea Sanow of Augsburg's URGO office for their work in assisting with the Fulbright application. "I feel like they went through revision after revision maybe 500 times with me," she says. Year-round the pair coach students in applying for awards, fellowships, scholarships, and to graduate school.
"This is something to be celebrated by all of Augsburg," Oliver adds. "A lot of my growth has happened here, and that has led me to be a Fulbright Scholar. It's due to Augsburg's work as well as my own."
Read more about Jennifer's experiences on her blog, My World Through Fulbright.