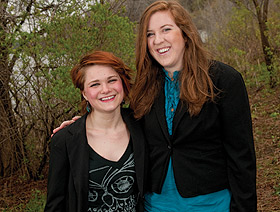 This year, two students in Augsburg's Environmental Studies program won prestigious scholarships: one received a Fulbright research fellowship and a Rotary Ambassadorial Scholarship, and another was awarded a Udall Scholarship. Both students say their studies and experiences at Augsburg have prepared them to make a difference in the world.
Katie Edelen '11 [right] arrived at Augsburg intent on becoming a doctor and helping people in war-torn countries. Following her junior year of college she traveled to Chennai, India to shadow doctors in government hospitals and work with a doctor who brought internal medicine services to refugee camps, slums, and villages.
In India, she began to see the effects of peoples' actions on the environment. "What really spoke to me were all the people who had been exposed to water-borne, preventable diseases because of unsafe sanitary conditions," she recalls. She saw that issues related to health, education, poverty, and social justice were connected to environmental problems.
This experience led Edelen to pursue other opportunities centered on water and its role in society. She took a course on environmental and river politics led by environmental studies professor Joe Underhill Cady. She also traveled to Uganda and worked with villagers on water access and conservation, even starting a "safe water and hygiene club" in the primary school.
Edeln received a Fulbright research fellowship and will work at the Peace Research Institute Oslo researching the correlation between armed conflict and water hazards and scarcity. Following her time in Norway, she will pursue graduate work in environmental studies at Oxford on a Rotary Ambassadorial Scholarship.
Similar to her friend, Kathy DeKrey '12 [left] came to Augsburg wanting to find a way to help people who live in toxic areas. In her first year of school, she took the Environmental Connections course. "On the first day we talked about how the environment is everything, even the things that destroy nature. I was so angry because I thought that's not true!" As she went through the program, she realized the value of being able to look at issues in that way.
DeKrey traveled to Portland, Ore. and Vancouver, BC with the Sustainable Cities in North America class and began to realize how complicated the environmental movement can be. "I saw gentrification at horrible levels that didn't even seem real, and next to it was this amazing sustainable city," she says. She says she wondered how some citizens felt pride in their sustainable habits and environments when others were digging through the garbage and selling trash to each other.
Throughout the program, DeKrey says she has learned that in order to make change in an area, it is important to have an open dialogue and honor what all parties bring to the discussion. As a project for one class, DeKrey worked on writing the environmental history of Minneapolis' Midtown Greenway. "Writing this history has helped me realize how in my work as an environmental activist moving forward listening and understanding the needs of everyone involved is more important than your own agenda," she says.
In 2011, DeKrey received a Udall Scholarship, named for U.S. Representative Morris K. Udall. The scholarship is awarded to students committed to careers related to the environment, tribal public policy, or Native American health care.
After college, DeKrey plans to study environmental and public interest law. "I want to help the people who don't have power in our system regain a safe place to live that isn't full of toxins. I think it's important to empower people to do things that they think are important," she says.