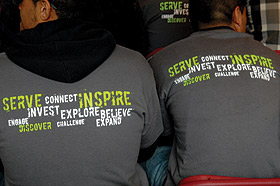 On the evening of Sunday, May 22, residents of the north metro were caught in the path of a tornado that took two lives, displaced residents, and caused more than $166 million in damage to the area.
On Monday, Brian Noy and Mary Laurel True of Augsburg's Sabo Center for Citizenship and Learning sat down and started brainstorming about ways to help—because that is what Auggies do.
"Actually," True said, "President Pribbenow called and asked what we were going to do for North Minneapolis." The two decided to organize clean-up groups to go to the area Wednesday and Thursday afternoon (see details below).
The Sabo Center is coordinating two clean-up trips to North Minneapolis, sandwich making on campus, and a donation collection. Noy says they are hoping to find a location to serve meals in the evenings as well. .
Ann Garvey, vice president of student affairs, reported that there are 66 students whose permanent address is in the affected zip codes, and several faculty and staff also live in North Minneapolis. Garvey offered to let displaced residents stay in the on-campus housing if needed.
For more information, "Like" the Campus Kitchen at Augsburg College Facebook page and read the Augsburg Daily A-mail for updates.
Ways to pitch in – UPDATED
Donation drive
Week of May 23
Bring donations of canned food, bottled water, diapers, blankets, clothes, and other household items to the Christensen Center welcome desk
1,000 peanut butter and jelly sandwich-making
Wednesday, May 25 10 a.m.-12 noon
Marshall Room, Christensen Center
Storm clean-up
Wednesday, May 25 12-4 p.m.
Meet in Christensen Center lobby
Storm clean-up
Thursday, May 26 12-4 p.m.
Meet in Christensen Center lobby
Neighborhood check-in
Door-to-door to check in on residents to gather information on service needs
Friday, May 27 12-4 p.m.
Meet in Christensen Center lobby