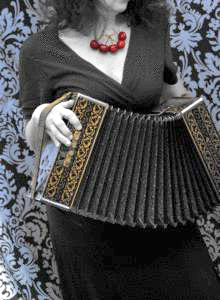 Later this month, two Augsburg alumni and an all-star cast will debut a unique site-specific production of Anton Chekhov's The Cherry Orchard at the Historic Lind House in New Ulm, Minn. The production also features high school and community actors from the Sleepy Eye/New Ulm area and includes live music from the Sleepy Eye Concertina Club.
This production focuses on the struggles of a family in the throes of losing their estate through foreclosure and was chosen to bring attention to the rash of farm foreclosures in the Southern Minnesota farming community. Although inherently tragic, this production will illuminate the comedic and eccentric nature of Chekhov's rich characters. Actors dressed in period costumes will lead up to 30 audience members into the home and through the grounds to experience the interplay of the characters from a very close proximity.
Luverne Seifert '83, a professional actor/director in the Twin Cities and head of undergraduate theatre performance at the University of Minnesota, is spearheading the project. Sarah Agnew, Nathan Keepers, and Eriq Nelson perform in the play along with Augsburg theater professors Darcey Engen '88 and Sarah Myers. Myers did the adaptation of the text and is plays Dunyasha.
The production is being made possible by an Artist Initiative grant from the Minnesota State Arts Board and is also sponsored in part by the Schell's Brewing Co.
Show dates:
July 28 – 7 and 9 p.m.
July 29 – 7 and 9 p.m.
July 30 – 7 and 9p.m.
July 31 – 2 p.m.
Tickets for the production are $15 and can be purchased at http://www.brownpapertickets.com/event/181880.
Submitted by Darcey Engen