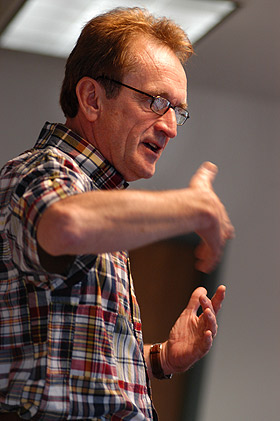 As part of our continuing series on faculty retirements, we share answers to our questions about the experiences of Dan Hanson.
In which departments/programs did you teach?
I taught in the Communication Studies Department and in the Masters of Arts in Leadership program.
How many years have you taught at Augsburg?
I started teaching as an adjunct in 1998 and a full time faculty member in 2000.
Tell us about a student who made an impression.
This is difficult to answer, since I have been impressed by so many students. I have been especially impressed by the Weekend students who return after being away from formal education, afraid that they will not succeed. Watching them realize that they are capable of learning and contributing has been most rewarding.
Is there a classroom experience that you remember?
Again, this is hard to answer, since I have had so many powerful experiences in the classroom; however, I do remember one class in ML 539 (Communicating a Self in Modern Organizations, a class Hanson developed) that was almost magical. The conversations were so rich and powerful that I left each class session with renewed energy. It was amazing.
What have your students taught you?
Wow – so much! Most of all, I have learned the wisdom to know that I do not know and the humility to stand in awe in the presence of another human being. Watching students learn and grow has been a powerful experience. It's hard to put it into words.
What are you planning to do in retirement?
I'm still answering that question, but I have started a list. I plan to continue teaching a couple of WEC courses as an adjunct. I also plan to write again, perhaps a sequel to Room for J. I definitely plan to play with my five grandchildren. And I look forward to volunteering when and where I can make a difference.
Is there anything else I want to share?
I would just like to thank the students at Augsburg who have made this chapter in my life so rewarding.