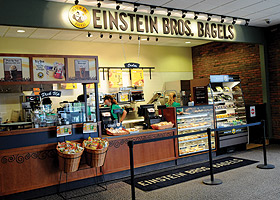 By the time you read this article, you will likely have already noticed a somewhat significant change in Christensen Center. The coffee shop formerly known as Cooper's has been replaced by what is sure to become an Augsburg favorite—Einstein Bros Bagels.
Last spring, Augsburg administration began asking students, faculty, and staff for their input on dining options on campus. They wanted more options and extended hours, particularly service for students attending class in the evenings and on the weekends.
At the same time, Steve West, A'viands' vice president for education and business dining, had attended a conference where he talked with Einstein's representatives. "In higher ed, you're always looking to make things new so it's not the same thing year after year," West said. He was impressed with Einstein's growth, ability to provide meals throughout the entire day, and their quality.
Remodeling and training began in the summer and was completed in early August. The grand opening will be Wednesday, Sept. 7. Einstein's will also offer catering for on-campus events and meetings later in the fall semester.
Einstein's offers breakfast, lunch, smoothies, coffee, snacks, and dinner. West said it will serve as an alternative where people can get a made-to-order salad, sandwich, wrap, or something from the grab & go case. "I think it's a good value and a healthy option, and it fits all the needs of the Augsburg students." West wants the campus community to know that this addition is A'viands operating as Einstein's, so the quality and level of service will be on par with other Augsburg dining facilities.
Another change which will be important, especially to students not on a meal plan, is the removal of the A-Club Grille in the lower level of Christensen. Eventually this space will be home to the Office of Admissions. Some popular items from the Grille, including French fries, burgers, and chicken strips, will be available in Nabo in Oren Gateway Center.
This is A'viands' first venture into working with a national franchise on a college campus. So far, West said he has been pleased with the company's standards and training program, and he is looking forward to seeing how Einstein's will be received at Augsburg.
Hours of service:
Monday – Thursday 7:30 a.m. – 9 p.m.
Friday 7:30 a.m. – 8 p.m.
Sunday closed (see below)
Saturday Grab & Go 7:30 a.m. – 5 p.m.
Weekend College Sunday Grab & Go 11 a.m. – 3 p.m.