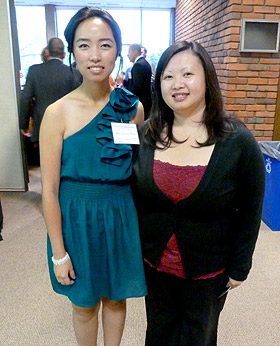 When Mai Choua Thao '11, a senior studying business administration and accounting, was accepted into Augsburg's Scholastic Connections program, she was hoping to connect on many levels with her mentor. But she said that Cindy Peterson, director of the program, had a tough time finding someone for Thao to work with. Then Peterson approached Jenny Yang, a counselor in the financial aid office at Augsburg. Though Yang is not an alum of Augsburg as most of the Scholastic Connections mentors are, she was a perfect fit for Thao.
"The thing I appreciate about Jenny is that we can relate to each other. Our families are similar and she understands me. I don't think another mentor would fully comprehend my life like Jenny does," Thao said. Both are Hmong women who come from large families, and both have experienced the challenges of living in a bi-cultural world.
Thao said she feels as though Yang is her "devil's advocate," challenging her to define her goals. "We talk about what I want in my life and my plans for graduate school," Thao said, "and she asks me what I really want in life." Thao also said that she knows she can reach Yang at any time and she always feels welcome to talk with her mentor.
Scholastic Connections is a scholarship and mentorship program for high-achieving undergraduate students of color. The program is designed to assist students succeed in completing their undergraduate degree and prepare them to be engaged, successful citizens of the world on graduation by facilitating career development and planning.
The following is Yang's reflection on her relationship with Thao and her experience as a Scholastic Connections mentor. Yang and Thao joined the other Scholastic Connections scholars and mentors for the 2011 gala on Friday, Sept. 16 at Augsburg. Fore more information on the program, go to the Scholastic Connections website.
*****
Scholastic Connections to me is the ideal program to help retain and engage students of color because it has two components that are important to help a student succeed and graduate: scholarship money and self-discovery and identity formation to find their life passion.
When Cindy Peterson, the director of Scholastic Connections, approached me to serve as mentor, I felt honored, but I hesitated. The intention of the program is to connect current students with an Augsburg alum, and I told Cindy that I did not feel right accepting to serve as a mentor, because I did not graduate from Augsburg. Eventually Cindy convinced to serve a mentor, and I am so happy that I accepted the invitation.
When I found out that I would serve as a mentor to Mai Choua Thao or MC, I knew that we would be a good fit. I wanted to get to know MC, not just as student but also as a person. I felt honored to mentor a young talented Hmong woman, and help her navigate a bi-cultural world. We are both Hmong women, and I was in the same shoes as MC 10 years ago as I explored who I was, who I wanted to be, how to hold on to my cultural roots as a Hmong person, and how to learn the skills I needed to function in the mainstream world. I knew that through this mentoring relationship, I would learn from MC as much as she could gain knowledge from me.
Through this relationship, MC and I talk a lot about our cultural identity as Hmong women and family expectations, and the balance of a career versus our vocation and purpose in life. I am reminded through our conversations that the challenges, struggles, and expectations for children with parents who are former refugees and immigrants have not changed much from the time that I went to college. Often we are the caretakers, and we help our parents financially. It is not easy to be a student, and to have so many responsibilities at home, but MC has learned the art of balancing the best of both worlds.
As a mentor, I do not claim to know everything nor do I have the answers to everything, but I told MC that I will challenge her, provide resources, and be there for her if she wants to vent, celebrate good news, or share disappointments. I am proud of all her accomplishments here at Augsburg, and outside of Augsburg. I believe MC will achieve her dreams and goals, and my role as a mentor is only a piece of the puzzle to what she will do next after Augsburg. I am so grateful to be part of Scholastic Connections as a staff member, and I'm proud of being MC's mentor.