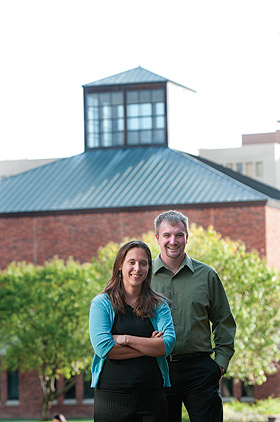 By Wendi Wheeler '06
Jeanette Clark '07 and Antonio Spargo '07 don't know a lot of the current Day students. That's because most of them were in high school when Clark and Spargo last attended Augsburg. So now that they are back on campus as campus ministry interns, they believe their most important job responsibility is getting to know students.
Both Clark and Spargo have been studying at Luther Seminary, and each has completed at least one internship already. Dave Wold, who knew Clark and Spargo because of their involvement with campus ministry as undergraduates, contacted the seminarians this summer and asked if they would like to work at Augsburg this fall.
"It's like an internship but not," Clark said. Though it is early in the school year, Clark sees her role as supporting students and helping campus ministry groups "get off the ground for the year."
As undergraduates, Clark and Spargo were campus ministry commissioners and, as such, had duties to fulfill. Now they said they are not tied to any specific responsibilities, making them free to discover opportunities to engage with students.
Spargo said he hopes to connect with students at lunch and campus events. "The role that has appeared for us now is being the face of campus ministry to students and helping them see that campus ministry is here for them," he said. Spargo, a former Auggie football player, is especially excited to find ways to interact with student-athletes.
Clark is looking forward mostly to hear what students want to do through campus ministry. "I want to work with students to make their ideas happen, and I'm very excited about the opportunities where faith and service connect."
As graduate students, both know this year will provide learning opportunities for them. Clark is open to listening and learning, and she hopes to find ways to put students' ideas into action. Because she aspires to a career in campus ministry, learning how to support students is important for her.
Spargo is glad to be back, learning and practicing in a place where he has strong connections. "There are so many great people here to learn from and young adults going from what they grew up with to what they now believe for themselves," he said. "I want to serve them in whatever ways they need."
Welcome back Jeanette and Antonio!