This week Augsburg College celebrates coming out week in connection with Coming Out For Equality Day on Oct. 11, an international event Ever to raise awareness of the LGBTQI community and rights movement.
Colors of the Week
To honor the tradition started during Stand Up Again Hate week last year, students, staff, and faculty are encouraged to wear similar colors every day during Augsburg Coming Out Week. The colors are:
* Red on Monday, October 10
* Orange on Tuesday, October 11
* Yellow on Wednesday, October 12
* Green on Thursday, October 13
* Blue, Purple, or Rainbow on Friday, October 14
Below we asked Augsburg students on the ELE (Everybody Loves Everybody) residence life special interest community to share why they think Augsburg is a welcoming place.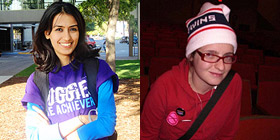 Alaa Baquer, sophomore, biology/pre-med and chemistry
[left]
Augsburg has been my home since I came here. I live on the ELE floor. I'm an LGBTQIA ally because I want people to live in peace and harmony and be appreciated for who they are.
Fia Goldfine, junior, business management [right]
I feel Augsburg College embraces people from all walks of life who are seeking a first-class education creating a welcoming place.
Laura Grobner, sophomore, sociology and mathematics [left]
Augsburg has a great variety of student groups to get involved in, all of which are very inclusive. Since coming to Augsburg I have found a great group of people and acceptance in the queer community. Augsburg has given me a safe and accepting place to reevaluate my beliefs and explore new ways of thinking and living.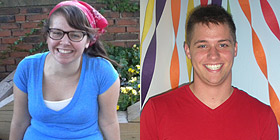 Dan Meyer, junior, business management and MIS [right]
I think that Augsburg is a welcoming place because of the small community that we have here. ResLife does an amazing job at being welcoming to everyone, the school accepts people to Augsburg every year no matter who they are. We have good resources to go to on campus if there are issues or if you just want to talk to people. The ELE floors going from 1 floor last year to 3 floors this year just goes to show how amazing the students are here at Augsburg College.
Augsburg Coming Out Week Events
Ally Training for Students
Tuesday, October 11
5:00pm-7:00pm
Augsburg Room
Ally Training for Staff and Faculty
Thursday, October 13
9:00am – 12:00pm
Marshall Room
Augsburg Coming Out Week Keynote Speaker: David Weiss
Honoring the Promise to be There: Turning Back the (Anti-)Marriage Amendment in the Name of God
Wednesday, October 12
7:30pm – 9:00pm
Science 123
David Weiss–theologian, poet, essayist, and former religion processor–is our featured keynote speaker for the 3rd annual Augsburg Coming Out Week. Weiss will discuss the intersections of gender, sexuality, faith, and family. Using the Christian Bible as a guide, Weiss will also talk about marriage and the negative impact the constitutional amendment to ban same-sex marriage in Minnesota will have for all families.