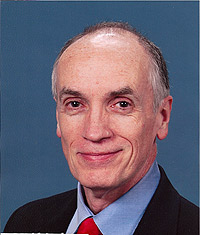 Like Stephen Colbert? Love "The Daily Show"? The precursor to these politically minded comics was the 19th-century clown Dan Rice. He was a friend to Abraham Lincoln, influenced Mark Twain, and was a favorite of Walt Whitman. His character served as the model for "Uncle Sam." Dan Rice was so famous in his day, he even ran for President!
The Humanities & Fine Arts Convocation speaker David Carlyon is the author of Dan Rice: The Most Famous Man You've Never Heard Of. Carlyon examines the life of Dan Rice, the 19th-century icon who lived at the intersections of art and politics, pop culture and celebrity, with revealing points of comparison for our own times.
The convocation will take place on Wednesday, Oct. 26 at 10am in Hoversten Chapel. Admission is free. A book signing will follow.
Carlyon is an historian, theatre director, teacher, actor, and ex-circus clown. His book on Rice was the subject of a New York Times feature article and received glowing reviews around the country. He has directed plays at Joseph Papp's Riverside Shakespeare Company, the Actor's Studio, and the Goodspeed Opera Company.  He has taught master classes in clowning, acting, and theatre history at Northwestern, the University of Michigan, Carnegie-Mellon, and Brown. He has studied acting at the Royal National Theatre Summer Acting Program in London under Fiona Shaw, Richard Eyre, and Janet McTeer, as well as in the U.S. under Frank Galati and Uta Hagen. For three years he toured throughout the United States as a clown with the Ringling Brothers and Barnum & Bailey Circus. He has a BA from the University of Michigan, a law degree from the University of California at Berkley, and a PhD from Northwestern University. He has fought forest fires, served as an MP in the Army, and sold beer at Philadelphia's Vets Stadium. Talk about vocation!
Learn more about David Carlyon