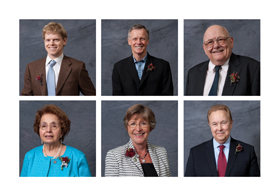 This morning at the 2011 Homecoming Convocation, Augsburg recognized the achievements and dedication of four alumni and two Augsburg faculty members. Congratulations to Adam Seed '01, Norma Noonan, Arlin Gyberg, Wayne Jorgenson '71, Corky Hall '71, and Judith Schaubach '68.
First Decade Award
Adam Seed '01 [top left]
Adam has been called a man of honor, compassion, and service who lives the mission of Augsburg. After graduating from the Augsburg StepUP® program, Adam completed his bachelor's degree at Brown University. Over and over again, he has given back to the Augsburg community where he once worked on the grounds crew not just financially but also personally and professionally. He currently works alongside his father and brother in their family real estate investment business in Rhode Island. Adam is a servant leader, which was evident since he first set foot on campus. He dreams big and nurtures his dreams to fruition. Adam and his wife Allison are the proud parents of their daughters Avery and Annika and their son Ashton.
Spirit of Augsburg Award
Norma Noonan [bottom left]
Since arriving at Augsburg in 1966, Norma Noonan has earned a reputation as a supportive and dependable program leader, a conscientious and caring mentor, and a servant leader. She led the Master of Arts in Leadership program, building it to a well-regarded interdisciplinary graduate studies program. A professor of political science, Noonan has also directed the international relations major and explored special interests in Russia, Russian foreign policy, political leadership, and women in leadership. She has directed the Center for Leadership Studies and also initiated the Called to Lead interdisciplinary adventure in blending the spiritual with the practical lives we lead. A frequent Twin Cities speaker on foreign policy and Russia, Noonan has often served as a commentator on Minnesota Public Radio and has authored numerous articles. She recently published a book, Women in Russian Politics and Society, for which she was a major contributor and co-editor.
Arlin Gyberg [top right]
Since 1967, Arlin Gyberg has mentored chemistry students who have become physicians, research scientists, and university professors—as well as a Rhodes Scholar, a Nobel Prize recipient, and a biodiesel entrepreneur. Gyberg was given an Outstanding Educator in America award in 1973 and was selected twice by the graduating class as an honored faculty in the science and mathematics division. He has done consulting, research, and teaching for numerous organizations including 3M, NSP nuclear power plants, the Minnesota prison system, and several educational institutions.
Distinguished Alumni Award
Wayne Jorgenson '71 [bottom right]
With a degree business administration, Wayne Jorgenson entered the world of finance and now serves as senior vice president of investments at UBS Financial Services. In 1973, Jorgenson was one of the founders of a Civil War re-enactment unit known as the 1st Minnesota Volunteer Infantry, dedicated to preserving the history of the men who actually served in that unit during the War. The re-enactment group has acted as extras in several Civil War productions, including Dances with Wolves, Glory, The North and the South, and The Blue and the Gray. Jorgenson is said to be 100% dedicated to helping his clients protect, manage, and grow their assets and is a perfect blend of highly professional and delightful. He truly loves what he does and it shows in his awards, respect from colleagues, and referrals from satisfied clients.
Gaylord "Corky" Hall '71 [top center]
Corky Hall is known for his leadership skills. Active in numerous activities while at Augsburg, he especially enjoyed sports, where his leadership skills shined as captain of a football team. He was signed by the Boston Bruins professional hockey club. He later went on to become an extremely successful businessman and entrepreneur, using his skills and training as an executive with General Mills and Carlson Companies. He created and owned several U.S. companies, including U.S. Communications (the nation's second-largest promotional marketing agency). Later, he was recruited to create a marketing communications agency for Gage Marketing Group, the largest marketing services company in the U.S., after which he founded Hall Batko, a business and brand consultancy. Currently, he is founder and CEO of Stellus Consulting, which guides leadership teams in creating a strategic vision and building relationships that achieve that vision. Hall created the Minnesota Wild brand and has represented George Lucas, Steven Spielberg, and Jim Henson, among others. He is said to be a man who shares his many gifts and who has lived out the Augsburg mission of "education for service." He conducts himself with the highest integrity, shows courtesy, concern, and respect for others, and is an outstanding community citizen in every respect.
Judith Schaubach '68 [bottom center]
Early in her career, Judy Schaubach discovered the importance of collective action in educational leadership. As president of the Minnesota Education Association (MEA), she was instrumental in forging an agreement with MEA's long-time rival, the Minnesota Federation of Teachers. The new organization, Education Minnesota, was the first statewide merger in the nation recognized by both NEA and AFT, and as co-president, Schaubach modeled the spirit of new unionism. This involved organizing efforts for education support professionals, establishment of professional development activists who assess the quality of professional development in school districts, and building coalitions to bring together leaders from all levels of education. Championing the creation of the five-year Schools First! campaign, Schaubach traveled around the state to lead community forums to discuss challenges and opportunities for public schools in each community. She has shown a generation of young education advocates and union activists what can be accomplished with vision, passion, dedication, and commitment to a cause.