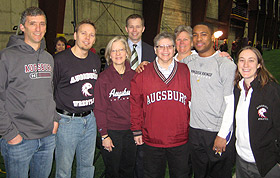 It's hard to imagine walking around the globe, let alone doing that 47 times in only six weeks. But that's just how much participants exercised last year as part of the statewide BizicallyFit 2012 Health Challenge.
Last year, nearly 150 Auggies took part in the challenge and won, for a second time, a good-natured competition against St. Thomas.
Please join your Auggie faculty and staff colleagues as they take on the Tommies for a third year. This year might be shaping up to be a bigger challenge, though, since the Tommies already have more than 150 people on their teams.
More Auggies are needed to help level the playing field and drive Augsburg to a third victory over our friends across the river. As the saying goes: "Many feet exercising makes light work."
Please sign up to take part in the Challenge. With your help, maybe we can collectively circle the globe 48 times this year.
Get the full details on registering to participate on a team in the Daily A-Mail.
Shown here are Auggies with Minnesota Vikings cornerback Asher Allen at the fitness challenge kickoff at Vikings Winter Park.
[L to R]: Benjy Kent, academic skills; Devon Ross, admissions; Jill Davenport, central support services; Dr. Kevin Ronnnberg '91, medical director of Medica; Patrice Salmeri, StepUP; Carol Enke, Health and Physical Education; Asher Allen, Minnesota Vikings cornerback; Mel Lee, Health and Physical Education
Run your first (or tenth) 5K, 10K, or half marathon!
The Get in Gear is a great race to begin your racing career or to get ready for the race season. There's a 5K, 10K, a 1/2 marathn, and a 2K for kids. The date is Saturday, April 28, and the race begins and ends at Minnehaha Falls. Go to the Get in Gear website for more information or to join Carol Enke in the 10K corporate category.