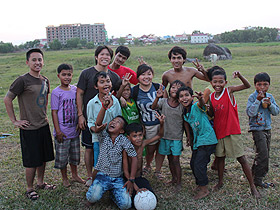 For two weeks in January, a group of students and volunteers from the Twin Cities traveled to Cambodia to participate in a service project with the Global Connections Project.
Founded in January 2010, the Global Connections Project has been the lifelong work and vision of Shawn Tuoch and Penh Soni Lo, director of Pan Asian Student Services at Augsburg. Shawn and Penh are children of the wars in Southeast Asia which resulted in the mass exodus of Southeast Asian refugees to the United States. After several individual trips to Southeast Asia for charitable projects, they recognize the need for humanitarian work in Southeast Asia. By luck, they met through various networks and started collaborating. As a result, Global Connections Project formed with an all-volunteer staff and board.
While in Cambodia, the group volunteered at New Life Center Organization orphanage in Siem Reap, which the Global Connections Project built in 2010. They also taught conversational English in Neanglem village about 20 miles from Battambang. In addition, they explored the effects of tourism on Sihanoukvillle region while shadowing two young women who have been sponsored by the Project.
Below are reflections from two of the group members. To read more, go to the Global Connections Project Facebook page.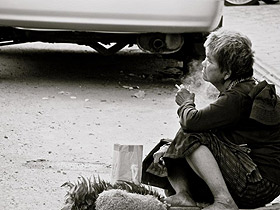 Mai Yer Vang '11, currently teaching English in Japan
When I shot this picture [shown here], I didn't realize how deep and captivating this woman would stick out to me until now. In a single snap, I hope to have captured the hardship she may have faced through her lifetime. I wonder if she still sees the world as a beautiful place, or if all the difficult things she's seen in her lifetime have made it hard for her to see the beauty that lies within our humanity.
Cambodia has taught me that history does repeat itself if the world turns a blind eye. A slight shift in history impacts a society psychologically and things are the way they are because of it. Leaving Cambodia, I think the most important lesson I've learned is to be generous. Yes, there are a lot of problems in the world—but if we shut ourselves out, become ignorant to the problems in our world, then history would and could possibly repeat itself.
I will not forget to be generous. When you can do things without expecting anything in return, that is the ultimate meaning of life. I'm grateful that I have the opportunity, chance, and choice to be generous.
Maizoua Vang, Augsburg College senior
It has been almost a week since I have been back home from my trip to Cambodia. All of which I've done from the time I arrived in Cambodia up until I departed has finally sunk in completely. My time there may have been short, but in such a short period of time I was given the opportunity to learn so much.
For one, I've learned that to be of help goes beyond one's power. The fact that you're able to be present in that moment of time and be of help enables a person to realize how fortunate they are to be able to change a person's life in that slight moment of encounter; whether you both know it or not.
Second, I've been reminded that in order to change anything, you must first learn to change yourself. Change your mindset, your views, and your heart to fully adapt to the changes you want for others. And you must learn to help and understand yourself before you can learn to be of help and understand others.
Lastly, continue to pursue your curiosity. Like my picture I've included in this post, be as curious as a child who seeks adventure. Continue to look beyond what you think you may know. Be open to the changes and opportunities given. Meet and talk to strangers, for you may be given a chance to change their lives just as they may be given a chance to change yours.
More importantly, I wouldn't have had the opportunity to reflect upon all that I've learned here if it weren't for this program and the group I traveled with. Being able to travel with everyone on this trip and through this program, it has definitely been a learning experience. It has helped me reshape my views on service and how to better myself individually as well. I can't thank everyone enough for this tremendous and wonderful experience. Thank you Global Connections Project for this great opportunity. Thank you to all the supporters of this program, you are all the reason why this experience was made possible.