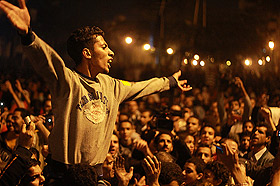 Beginning this spring, Augsburg will host a series of speakers, courses, and travel experiences relating to the political changes in Egypt that tie in with Augsburg's civic mission.
The first of these opportunities is the Batalden Symposium on Applied Ethics which will feature three members of the EYouth (Engaging and Empowering Egyptian Youth) project. The lecture on Monday, Feb. 13 at 10 a.m., is free and open to the public.
Said Joe Underhill, professor of political science and adviser for Augsburg's Model UN course, "We are hoping these events will provide students with a rich and inter-related set of learning experiences that will inspire and empower our students to be informed citizens, thoughtful stewards, critical thinkers, and responsible leaders."
Opportunities for community and student engagement include the following:
Feb. 13-16:  The Batalden Symposium on Applied Ethics featuring Alaa Abd El-Rahman, Nada Yehia, and Noor Hafez of the EYouth project
Convocation lecture: Monday, Feb. 13, 10 a.m., Hoversten Chapel, Foss Center
Workshop: Feb. 13, 1:30-4:30, East Commons, Christensen Center
Interfaith dialogue on political action: Feb. 13, 7:30 p.m., Trinity Lutheran Building (corner of Riverside and 20th Ave S)
The convocation presentation by Mr. El-Rahman, Ms. Hafez, and Ms. Yehia will describe their experiences as part of the protests and observations about the process of youth-led political change in Egypt. In addition to the convocation, the speakers will work with Augsburg students on projects of common interest (such as collaboration on a public opinion survey for youth on civic engagement), a town hall forum and interfaith dialogue on social change, and a workshop on youth leadership development.
Mar. 1-3 Nobel Peace Prize Forum
Events and workshops related to youth empowerment and social change (including in Egypt, Somalia, India, and in the Twin Cities). Featured speakers and performers include former South African president F. W. de Klerk, human rights activist Naomi Tutu, and rapper Dessa. The Forum includes tracks in business, arts and music, education, and global studies. Learn more at the Nobel Peace Prize Forum website.
The Model UN Course at Augsburg 
This year delegates will represent Egypt at the Model UN Conference in New York City in May. They will also meet with the Egyptian Mission to the UN and Council on Foreign Relations expert Ed Husain.
May 19-June 11: Youth Movements and Social Change in Egypt
In this summer study abroad course, Augsburg students will meet with the Egyptians from the EYouth Movement to continue building the partnerships and collaborative relationships around youth empowerment. Students will also study the revolution and sustainable development in Egypt. Deadline to sign up for this seminar is February 10.