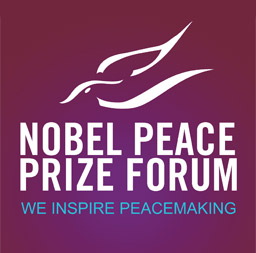 The 24th annual Nobel Peace Prize Forum—a conference that celebrates Nobel Peace Prize Laureates, international and national leaders—is March 1-3 in Minneapolis.
The 2012 Nobel Peace Prize Forum, which explores issues related to peacemaking and causes of conflict and war, includes tracks related to business, arts and music, education, and global studies. A special 50th anniversary presentation of Benjamin Britten's War Requiem will be performed as part of the event.
The forum is organized by Augsburg College, in partnership with the Humphrey School of Public Affairs, and with ongoing sponsorship from the original college partners. The Nobel Peace Prize Forum is the only affiliation of the Nobel Institute outside Norway. It was founded during 1989 through a unique partnership between the Norwegian Nobel Institute and five private colleges—Augsburg, Augustana, Concordia (Moorhead), Luther, and St. Olaf.
Registration is $40 per track for adults, $20 per track for students. Separate tickets are required for the performance of the War Requiem, and for the presentation by Dessa. For a complete schedule, to learn more, and to register, visit peace.augsburg.edu. Specific room locations for each presenter will be available soon, and will be posted on the website. To learn more about the host and coordinator of the event, Augsburg College, visit http://www.augsburg.edu/.
Confirmed keynote and distinguished concurrent session events include:
Nobel Peace Prize Laureate F.W. de Klerk, former president of South Africa. (9:15-10:15 a.m., March 3)
Alf Bjorseth, chairman of SCATEC AS, will address the role of sustainable energy technologies to renew peace and foster stability. (9:30-10:30 a.m., March 1)
Adam Hochschild, journalist, teacher, and author, will speak about the moral issues of World War I and those who tried to prevent the carnage that occurred. (1-2:10 p.m., March 1)
Saki Macozoma business leader, former member of South Africa's parliament, and a prisoner on Robben Island during apartheid, will talk about business and the price of peace in post-apartheid South Africa. (4-5 p.m., March 1)
Benjamin Britten's War Requiem, Ted Mann Concert Hall, University of Minnesota. (7:30-10 p.m., March 1)
Joe Cavanaugh, Youth Frontiers founder, talks of building respectful school communities. (1:45-2:45 p.m., March 2)
Andrew Slack, founder of the Harry Potter Alliance, will address how to use the morals and lessons of Harry Potter to fight the dark arts in the real world. (4:30-5:30 p.m., March 2)
Dessa, nationally known hip-hop artist, will talk about ethics, hip-hop, and present a mini-set. (8-10:30 p.m., March 2)
Nobel Laureate Peter Agre, 2003 Nobel Prize in Chemistry and Augsburg College alumnus, will address the role of science in behind-the-scenes efforts to foster humanitarian objectives that are not possible for politicians and government leaders. (12:30-1:45 p.m., March 3)
Geir Lundestad, Norwegian Nobel Institute, will talk about controversial Nobel Peace Prizes, and whether the awards were successes or failures. (12:30-1:45 p.m., March 3)
Abdul Aziz Said, professor of American University, on the value to peace of ecological balance, dignity, political pluralism, and cultural diversity. (12:30-1:45 p.m., March 3)
"Reunion: 10 Years After the War," special showing of this Amanda Award-winning documentary that shows the meeting between Albanian and Serb students 10 years after the bombings of Kosovo. (Multiple showings March 3)
Jonathan Mann, CNN international correspondent, will discuss the character and qualities of Laureates, a perspective gathered during 16 years of interviewing Laureates as they received their awards in Oslo. Mann also will moderate question and answer sessions following keynote presentations. (Speaks 4-4:30 p.m., March 3)
Naomi Tutu, international human rights advocate and daughter of Archbishop Desmond Tutu, will present a closing call to action. (4:30-5 p.m., March 3)
Major support is provided by The El-Hibri Charitable Foundation, Land O' Lakes, and Thrivent Financial for Lutherans.