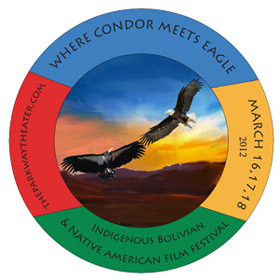 The Augsburg Native American Film Series, in collaboration with Phillips Indian Educators and the Parkway Theater, presents Where Condor Meets Eagle: Indigenous Bolivian and Native American Film Festival and Cultural Exchange Screening, March 16-18 at the Minneapolis Parkway Theater. All events are free and open to the public.
The Augsburg College Native American Film Festival and various academic departments are proud to present a three-night film festival celebrating Indigenous film, collaborations across national boundaries, and visual storytelling.
The festival title, Where Condor Meets Eagle, reflects the prophecy that when the Condor (Bolivia) meets the Eagle (North America) the Indigenous continent will be healed. This title also represents our philosophy to promote good health/living well for Indigenous communities through decolonization and self-determination.
The film festival includes documentaries, docudramas, and narrative fiction films representing the work produced by three Indigenous film organization Igloolik Isuma Productions (Canada), CAIB (Bolivia) and Mushkeg Media Inc. (Canada) whose award winning work has been recognized globally at festivals including, the Native American Film + Video Festival (New York), Cannes, Toronto Film Festival, and the American Indigenous People and First Nations Film and Video Festival (Bolivia). The event also will include short films produced in the Summer 2011 by two award winning local youth-producer groups from Minnesota: MIGIZI Youth Producers and Project Reserve Youth Producers. Many of the filmmakers will be present at the screenings to answer your questions and participate in discussions about their films, Indigenous culture, traditional worldviews, and contemporary issues facing Indigenous people. The three evenings will each have a theme: Language and Culture, Contemporary Issues, and Traditional Stories.
Translators will be present at each event. See the website for program details including summaries of the films and start times (summaries are taken from Native Networks website unless otherwise noted). All films will be subtitled in English.