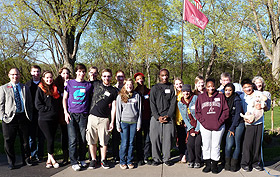 During this spring's student philanthropy week, Augsburg students saved their pennies—and maybe a few 1 and 5 dollar bills—to support The Augsburg Fund and to learn about the importance of giving back.
This year, the Class of 2015 had the most donors in the Feed the Pig campaign. On April 10, members of the winning class celebrated their victory by enjoying a party at Augsburg House with President Pribbenow and his family, courtesy of The Augsburg Fund.
What is the Feed the Pig campaign?
Each Augsburg student is given an individual piggy bank to fill, and many Augsburg faculty and staff also "adopt" a pig to help support a particular class or student. Throughout the school year, students collect spare change into their piggy banks and deposit their change into a group jar during "Piggy Round-Up Days." Each student who donates the change in their bank is considered a donor. At the end of the school year, the class with the most donors wins a party at the President's House. The money raised in the Feed the Pig campaign goes to a scholarship for one lucky student.
The Feed the Pig campaign was started in 2010 by Augsburg's Office of Institutional Advancement to raise awareness about philanthropy and the importance of donor support. This project aims to educate students about ways in which they can support the College. Every year, Augsburg relies on thousands of alumni, parents, friends—and now students—to ensure that current Auggies can have an outstanding, affordable Augsburg College education.
For more information about how to get involved with the Feed the Pig project, contact Jen Jung, assistant director of Annual Giving, at 612-330-1179 or jung@augsburg.edu.
Thanks to all who participated in the Feed the Pig Campaign this year!