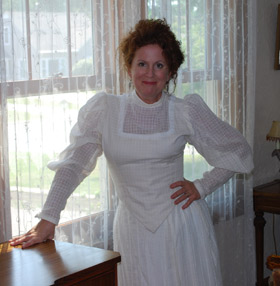 This summer, alumni Darcey Engen '88 [left] and her husband, Luverne Siefert '83, will bring a site-specific production of Anton Chekhov's The Cherry Orchard to the Minnesota communities of Blue Earth, Kenyon, Little Falls, Taylors Falls, and Worthington.
Engen and Siefert will share the stage—actually historic Minnesota homes and the surrounding grounds—with four performers known for their work with Minneapolis' Guthrie Theater, Jungle Theater, and Theatre de la Jeune Leune. The production will also feature local actors and musicians in each community.
This project began in 2011 when Engen, associate professor and chair of Augsburg's theater program, and Siefert, head of the undergraduate theatre performance program at the University of Minnesota, collaborated to create the condensed version of Chekhov's play with their Twin Cities colleagues and Sarah Myers, assistant professor of theater at Augsburg. The group premiered the production last summer in the Lind House in New Ulm, Minn.
Engen said she and Siefert decided to expand the project in 2012 in order to work with local actors, including high school students who may be interested in studying theater at Augsburg, and to bring classical theater to people who might not have had a chance to experience it. "When you bring meaningful literature to a community, you show people how the stories relate to their lives."
The Cherry Orchard documents a family's loss of their estate, an issue faced by Minnesota families who have experienced farm foreclosures. "After the show, people always stick around and grab our hands and say how much they enjoyed the experience," Engen said.
For Engen, performing in seven shows a week for five weeks helps her dive back into the subject she teaches. "To be performing such a long run and such a significant role in Western literature is a great re-check-in with material I'm teaching in my acting classes," she said. "It's fantastic for me to have that opportunity to leave the expectations of my teaching world in the summer and to focus on performing."
After teaching for 20 years, Engen said that both she and Siefert believe this project has been a meaningful part of their professional careers. "We feel like we hit on something that helps us do our art and, at the same time, make a difference and show what theater can do for a person's life."
The production is being made possible by an Arts Tour Minnesota grant from the Minnesota State Arts Board.
Performance schedule:
Kenyon, MN, Historic Gunderson House,
July 11, 12, 13 at 7:30 p.m.; July 14 at 3 and 7:30 p.m.; July 15 at 3 and 7 p.m.
Little Falls, Historic Musser Mansion at Linden Hills, 608 Highland Avenue
July 18, 19, 20 at 7:30 p.m.; July 21 at 3 and 7:30 p.m.; July 22 at 3 and 7 p.m.
Taylors Falls, Historic Folsom House
July 25, 26, 27 at 7:30 p.m.; July 28 at 3 and 7:30 p.m.; July 29 at 3 and 7 p.m.
Worthington, Historic Dayton House
August 1, 2, 3 at 7:30 p.m.; August 4 at 3 and 7:30 p.m.; August 5 at 3 p.m. 7 p.m.
Blue Earth, MN, Historic Wakefield House, 405 East 6th Street
August 8, 9, 10 at 7:30 p.m.; August 11 at 3 and 7:30 p.m.; August 12 at 3 and 7 p.m.