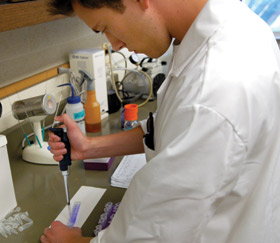 Nearly three dozen undergraduate students will present findings from their on-campus research during the URGO Summer Research Conference from July 25-26.
Augsburg College's Office of Undergraduate Research and Graduate Opportunity (URGO) provides summer research grants for students interested in professional study. Students further classroom learning with critical thinking and thoughtful analysis through faculty-led research that complements their degree programs.
This year, students' topics include how individuals use tattoos to reflect self identity; studies of the motion of Daphnia magna, a water flea; the influence of rap music in the Arab Spring revolutions; and the expression of gender nonconforming identities, among others.
Augsburg's research program is designed to help students achieve their educational goals, which range from attending graduate school to publishing work in academic journals, and from developing a mentor relationship to gaining extensive knowledge in their discipline.
Most URGO students devote 40 hours per week to the projects for 10 weeks, and half-time URGO students conduct 200 hours of research between May 21 and July 27. Each student works with an Augsburg faculty mentor to complete research that culminates in a final paper and their URGO Summer Research Conference presentation.
"The students have prepared interesting and academically sophisticated 15-minute presentations in which they'll present their research methods and findings," said Colin Irvine, URGO summer research coordinator. "The conference is open to the public, and we encourage everyone to support the students by attending a session or, if pressed for time, just one presentation."
URGO students also participate each spring in Zyzzogeton, the annual celebration of the creativity and scholarship of Augsburg College undergraduate students.
Some students also conduct research through the academic department in which they are majoring. Others conduct summer research through the McNair Scholars Program, a 10-week original research program meant to help prepare students for graduate school.
URGO Summer Research Conference
Wednesday, July 25
Kennedy Center Room 305
9 a.m. to 4:40 p.m.
Thursday, July 26
Sverdrup Hall Room 206
9 a.m. to 4:15 p.m.