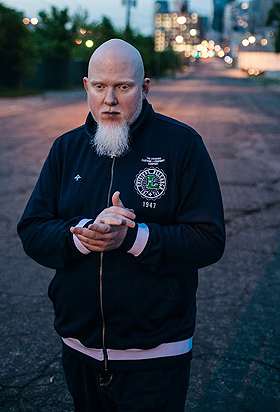 The 2013 Forum features the theme "The Power of Ideas: People and Peace" and offers tracks related to business, arts and music, science and health, education, and global studies.
"One of the clear highlights of this year's Nobel Peace Prize Forum will take place on Saturday, March 9, as a special evening is planned featuring presentations and performances by the acclaimed Minneapolis MC Brother Ali [pictured], as well as Syrian-American rapper/activist Omar Offendum," according to City Pages writer Erik Thompson.
"Ali and Offendum will present TED-style talks on the topic of 'Hip-Hop and Peace' and give short performances at Augsburg College's Kennedy Center," music reporter Andrea Swensson added.
Swensson, a journalist at Minnesota Public Radio (MPR) station 89.3 The Current will moderate the hip-hop discussion, and Tom Weber, co-host of MPR's The Daily Circuit, will moderate elements of Forum programming on Business Day, March 8; Health and Science Day, March 9; and Global Day, March 10.
The NPPF is a conference that celebrates the importance, consequence, and controversy of Nobel Peace Prize Laureates. Tawakkol Karman—2011 Peace Laureate, Yemeni journalist, and the first Arab woman to win the prize—will speak on Global Day. Karman received the Peace Prize in acknowledgment of her role in promoting peace, democracy, and gender equality.
Register to attend the Nobel Peace Prize Forum
All college/university students, faculty, staff, and members of the community must register to attend the Forum.
Augsburg students, faculty, and staff can register at a discounted price. Student tickets are $10. Augsburg faculty and staff tickets are half price when purchased using the promo code listed in A-mail.
Key speakers
The NPPF is a unique learning experience that unites students and community members with civic leaders. Learn more about the event and preview its speakers using the interactive NPPF schedule or build your itinerary using Guidebook, the Forum's smartphone app. Featured guests include:
– Muhammad Yunus: 2006 Peace Laureate, economist, and proponent of the microcredit movement.
– Dr. Paul Farmer: Co-founder of Partners in Health, leading thinker on health and human rights, and chair of Harvard Medical School's Department of Global Health and Social Medicine.
– Robin Wright: Journalist, author, and foreign policy analyst.
About the Forum
The NPPF is the only program outside of Norway that is affiliated with the Norwegian Nobel Institute. The program is housed and coordinated by Augsburg College in partnership with the University of Minnesota and five other Norwegian Lutheran colleges. The Forum's generous corporate sponsors, including major sponsor Land O'Lakes, make the NPPF possible.