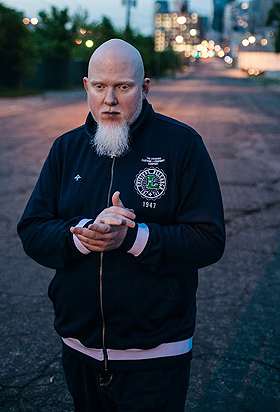 The 2013 Forum features the theme "The Power of Ideas: People and Peace" and offers tracks related to business, arts and music, science and health, education, and global studies.
"One of the clear highlights of this year's Nobel Peace Prize Forum will take place on Saturday, March 9, as a special evening is planned featuring presentations and performances by the acclaimed Minneapolis MC Brother Ali [pictured], as well as Syrian-American rapper/activist Omar Offendum," according to City Pages writer Erik Thompson.
"Ali and Offendum will present TED-style talks on the topic of 'Hip-Hop and Peace' and give short performances at Augsburg College's Kennedy Center," music reporter Andrea Swensson added.
Swensson, a journalist at Minnesota Public Radio (MPR) station 89.3 The Current will moderate the hip-hop discussion, and Tom Weber, co-host of MPR's The Daily Circuit, will moderate elements of Forum programming on Business Day, March 8; Health and Science Day, March 9; and Global Day, March 10. Continue reading "Nobel Peace Prize Forum welcomes Brother Ali, Tawakkol Karman, others" →