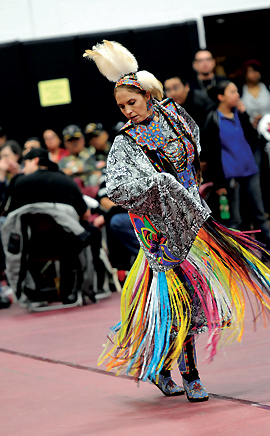 A powwow to celebrate the traditions and cultures of Augsburg Native American students and the Twin Cities community will be held March 23 in the College's Si Melby gymnasium.
The powwow—now in its fifth year—is an opportunity for Augsburg's indigenous students to share their traditions and culture with the community, according to Jennifer Simon, event organizer and director of Augsburg's American Indian Student Services.
"Each year, nearly a dozen students help me organize the powwow and learn all the details involved in planning a large cultural event for both the campus and the surrounding community," Simon said.
The powwow, which features grand entries at 1 and 6 p.m., is cohosted by Augsburg's American Indian Student Services and Indigenous Student Association. Registration for drums and dancers begins at 11 a.m., and there is no pre-registration allowed. Augsburg Native American graduates will be honored at 3 p.m., and Aztec dancers will perform at approximately 4 p.m.
The event includes food concessions, arts and crafts vendors, and informational tabling about community organizations as well as Augsburg's educational opportunities and services for native students of all ages.
More information on the powwow is available on the American Indian Student Services web page.
The College offers an undergraduate major in American Indian Studies and Augsburg Admissions will host an informational session at 4:30 p.m. Find American Indian Studies academic program details on the department's web page, and learn about the beginnings of the Augsburg College Traditional Powwow on YouTube.