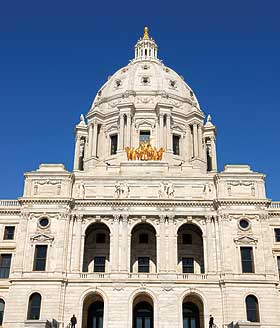 Whether they are learning about lobbying, speaking to a committee, or presenting their research, Auggies in many disciplines are making time to talk to lawmakers about issues and policies that affect students. By telling their stories to advocate for support for Minnesota's private colleges and for programs that make a private college education possible for students, Augsburg students are living the College's mission to be engaged citizens.
This spring, the Minnesota Private College Council (MPCC) and Augsburg Day Student Government will provide an opportunity for Auggies to engage with legislators at Augsburg Day at the Capitol. And at events held earlier this year, Ben Yawakie '13, Charlie Olson '13, and Rosie Benser '13 talked with legislators about the value of their experiences at Augsburg.
Having a voice at the Capitol
The annual Day at the Capitol, sponsored by the MPCC, gives students a voice in the State Grant program debate. Augsburg Day at the Capitol will be held Thursday, April 11. Students will receive a policy and lobbying briefing and hear from House and Senate members who represent Augsburg's campus. Then students will have an opportunity to speak with legislators.
Day student body president Patrick DuSchane '13 said, "It seems that during almost every legislative session, the State Grant is at risk of being reduced or cut. Day at the Capitol ensures that our state legislators understand the great importance of this program to Augsburg students and their families."
The Minnesota State Grant program makes college more affordable for low- and middle-income students. According to the MPCC website, the program provided $120 million in aid in the most recent academic year, helping more than 88,000 Minnesota students.
Transportation, a meal, and a t-shirt will be provided. Additionally, attendees are invited to participate in a dessert reception hosted by former Congressman Martin Sabo '79 at the end of the day.
Several Day at the Capitol events are coordinated by the MPCC for students from each of the Minnesota private colleges. Students from Bethany Lutheran College, Carleton College, Macalester College, and St. Catherine University will join Augsburg students at this year's event.
Speaking out on the value of the State Grant
During February, senior Ben Yawakie '13 spoke about the importance of the Minnesota State Grant and his private college education to the Minnesota Senate's higher education committee. According to an article on the MPCC website, Yawakie said that the grant allowed him to focus on academics and become involved in the community. He added that financial aid helped him and others "sense the opportunities that exist and…realize they can pursue their goals for higher education."
While students are a meaningful constituency at the Capitol, administrators also help strengthen the message of the importance of Minnesota's private colleges. Augsburg's President Paul Pribbenow testified before the committee, speaking about Augsburg's longstanding commitment to access and excellence. Sister Andrea Lee, president of St. Catherine University, and David Anderson, president of St. Olaf College, also presented.
Emphasizing quality academics at Minnesota's private colleges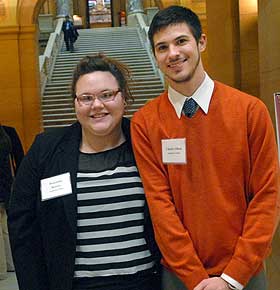 McNair Scholars Charlie Olson '13 and Rosie Benser '13 during February went to the Capitol to show the quality of undergraduate research being done at Minnesota's private colleges. Olson and Benser were invited to speak about their research projects—academic work that has helped both students define their interests and will also make them competitive applicants to graduate programs. They represented Augsburg at the MPCC Private Scholars at the Capitol event.
Olson said he wanted to use his opportunity to speak to legislators to advocate for the McNair Scholars program and for undergraduate research in general. "Without the McNair program, I wouldn't be aspiring to graduate school, and I wouldn't have found my academic calling."
The McNair Scholars Program, a federal TRIO program funded by the U.S. Department of Education, works to increase graduate degree awards for students from underrepresented segments of society.
Olson, a biopsychology major, worked on his research with biology assistant professor David Crowe studying levels of connectivity in the brain during states of perception. He described his work as "a way to start to decode some of the brain, the most mysterious and misunderstood part of the body." He said learning about scientific methodology and deductive reasoning improved his skills as an academic.
"When you concentrate so much of your time and effort into understanding something very specific, obtaining results is amazing. Whether the results are what you expect or not, the entire process is a wonderful learning experience."
Olson has applied to graduate programs for clinical and cognitive psychology and looks forward to doing research in the future on Alzheimer's or other neurodegenerative diseases.
Like Olson, Benser said research helped her find her calling. "Taking an abstract concept and making it personal and meaningful has helped me figure out my vocation and know what I want to do with my life." Benser, a sociology major, worked with professor James Vela-McConnell to study how audience members reacted to comedy routines dealing with stereotypes about race, sexual orientation, and gender.
In addition to presenting at the Capitol, Benser traveled with other McNair Scholars during the summer to present at an undergraduate research conference at the University of California, Berkeley. There, she said, watching the effect of her presentation on others solidified her passion for research. "As a scholar who has this privilege, I see that I can educate and create awareness about important issues. That is meaningful to me."
Benser is also applying to graduate programs and is interested in studying social psychology and social inequality.