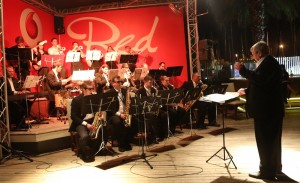 Augsburg College JIVE will perform January 24 at the Cedar Cultural Center to benefit victims and families of the New Year's Day fire on Cedar Avenue. The fire, which claimed the lives of three residents who lived in the apartments above 516 Cedar Ave. S., destroyed the Otanga Grocery Store and displaced tenants of 10 residential units.
"Augsburg has a very long history of working with our neighborhood. We are honored to partner with our neighbors and to support our friends who have been  impacted by this tragedy," said Mary Laurel True, director of community engagement for the College's Sabo Center for Citizenship and Learning.
The benefit, a collaboration between Augsburg College, The Cedar, and KFAI radio, will feature musicians who represent the cultural past and present of the West Bank neighborhood. Entertainers include: Spider John Koerner, The Brass Messengers, Martin Devaney, Phil Heywood, Jon Rodine, Southside Desire, DJ Go Getta with SYAV (Somali Youth Against Violence).
A special fund is being set up by Augsburg College President Paul Pribbenow to offset the ticket cost for students who wish to attend the benefit. Details on how to attend the benefit and access the special tickets will be shared by True via A-mail as soon as the details are worked out.
Doors open for the show at 6 p.m. and the show begins at 7 p.m.  Tickets will go on sale Friday, and can be purchased through the Cedar Cultural Center website.
Members of the Augsburg College community also can contribute to the needs of our Somali neighbors by making a designated donation to the Brian Coyle Community Center. More information is in January 3 A-mail post.