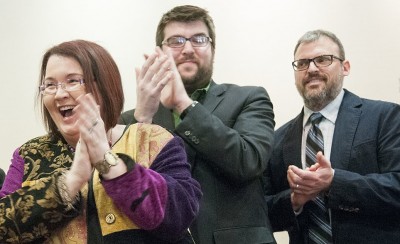 (MINNEAPOLIS) – Augsburg College is honored to announce that it has received a $10 million philanthropic gift to name a new, signature building on campus. This is the second gift of this size in the College's history.
The donor's generous cash contribution – which also is a naming-level gift – will support a new academic building that will house a number of the College's academic programs including biology, business, chemistry, computer science, math, physics, psychology, and religion.
"Succeeding in today's world requires an ability to thrive in a world that no longer has fixed boundaries," said Augsburg College President Paul C. Pribbenow. "That is why Augsburg College is building the Center for Science, Business, and Religion – a place that will support every student in their journey of vocational discernment and pursuit of careers in teaching, civic leadership, service to the church, scientific research, law, medicine, privately owned startup companies, and large corporations."
A formal announcement will be made later in the spring and at a time when the donor family can be on campus to celebrate with Auggies this generous contribution to the future of the community.
The $10 million, cash gift brings to more than $40 million the total funds for the new building. The Augsburg College Board of Regents will continue to monitor progress on the campaign and the College's cash position and debt capacity to determine when to set a date for groundbreaking on the first stage of the building. The College is on track to meet its goal of raising $50 million by 2016.
The College received its first-ever $10 million gift in 2013 from an anonymous donor from the Augsburg College Class of 1965.
About Augsburg College
Augsburg College is set in a vibrant neighborhood at the heart of the Twin Cities, and offers more than 50 undergraduate majors and nine graduate degrees to nearly 3,500 students of diverse backgrounds. Augsburg College educates students to be informed citizens, thoughtful stewards, critical thinkers, and responsible leaders. The Augsburg experience is supported by an engaged community committed to intentional diversity in its life and work. An Augsburg education is defined by excellence in the liberal arts and professional studies, guided by the faith and values of the Lutheran church, and shaped by its urban and global settings.