Participate in Feb. 24 photo shoot to tell the world how you foster peace building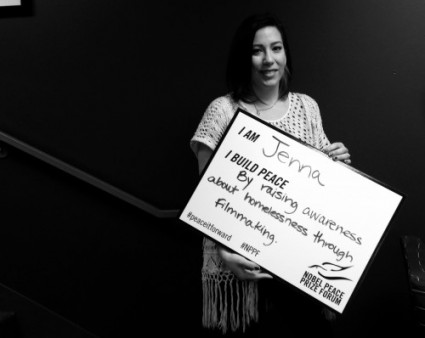 Join the Nobel Peace Prize Forum #peaceitforward campaign to tell the world how you build peace.
You'll become part of an international video and social media campaign in partnership with the internationally renowned Robert Fogarty of DearWorld.me, a portrait project that unites people through pictures, to raise awareness and grow involvement in peacemaking. In addition the video will be shown to an international audience at the Nobel Peace Prize Forum being held from March 6-8 in Minneapolis.
To become part of the campaign, simply stop by Augsburg College to have your photo taken. Be ready to answer the question of how you build peace and how you make a difference. Maybe you serve meals to the hungry, mentor children or serve on a nonprofit community board. Perhaps you work as part of a restorative justice program, are in a Rotary group that conducts projects across the globe, or help out an elderly neighbor. Peace building takes on many forms, small and large, and we want to capture what you do that makes a difference in your community, your state, our world.
A photographer will take a professional-quality, digital photo and a photo with your cell phone that you can post to social media. It's your chance to tell the world why peace matters.
Who: Public
When: 10 a.m.-7 p.m., Tuesday, Feb. 24
Where: Augsburg College's Oren Gateway Center lobby, 610 22nd Ave. S., Minneapolis, MN 55454
About the Nobel Peace Prize Forum
Under the auspices of the Norwegian Nobel Institute, the Nobel Peace Prize Forum inspires peacemaking by focusing on the work of Nobel Peace Prize laureates and important international peacemakers and peace builders. For more than 27 years, the Forum has been one of only three programs officially associated with the Norwegian Nobel Institute. Purchase tickets, review the full schedule and learn about lodging accommodations at peace.augsburg.edu
About Augsburg College
Augsburg College is the primary sponsor of the Nobel Peace Prize Forum. Augsburg is set in a vibrant neighborhood at the heart of the Twin Cities, and offers more than 50 undergraduate majors and nine graduate degrees to nearly 3,500 students of diverse backgrounds. Augsburg College educates students to be informed citizens, thoughtful stewards, critical thinkers, and responsible leaders. The Augsburg experience is supported by an engaged community committed to intentional diversity in its life and work. An Augsburg education is defined by excellence in the liberal arts and professional studies, guided by the faith and values of the Lutheran church, and shaped by its urban and global settings.