$447,000, three-year award supports Youth Theological Institute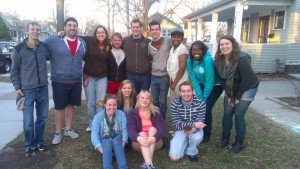 (MINNEAPOLIS) — A grant of more than $445,000 was awarded by Lilly Endowment Inc., in a highly competitive grant process, to Augsburg College's Youth Theology Institute. The award means the Youth Theology Institute can, among other things, develop a fellowship program for youth ministers, including from multicultural and ethnic-specific congregations, and expand participation in the program among youths, congregations, and synods.
"This grant supports Augsburg's continued commitment to intentional diversity and to modeling what it means to be a Lutheran college of the 21st century, located in the heart of one of the nation's most diverse zip codes," said Augsburg College President Paul Pribbenow.
"It equips young people with theological and vocational skills and helps them learn what it means to practice their faith, with its commitments to education, radical hospitality and serving your neighbor."
The Lilly grant will allow the Augsburg College Youth Theology Institute, now in its 13th year, to:
Develop a cohort of youth ministers from regional churches and synods, including multicultural and ethnic-specific congregations, interested in enhancing their youth ministry skills.
Increase the number of participants from 20 in 2016 to 40 by 2019 while also strengthening relationships with attendees and their families, their pastors and churches, through ongoing opportunities following the one-week institute.
Create a mentor program to allow college-age students to help high school students develop practices and skills for theological reflection.
Increase connections to the four synods of the Evangelical Lutheran Church in America that form Augsburg's governing structure.
Continue to provide scholarships to attend Augsburg College of $1,000 per student, per year, for as many as four years.
The next Youth Theology Institute is June 19-24, 2016, at Augsburg College. It will be directed by Jeremy Myers, associate professor of religion in youth and family ministry.
About Augsburg College: Augsburg College offers more than 50 undergraduate majors and nine graduate degrees to nearly 3,600 students of diverse backgrounds at its campuses located in the vibrant center of the Twin Cities and in Rochester. Augsburg College educates students to be informed citizens, thoughtful stewards, critical thinkers, and responsible leaders. The Augsburg experience is supported by an engaged community committed to intentional diversity in its life and work. An Augsburg education is defined by excellence in the liberal arts and professional studies, guided by the faith and values of the Lutheran church, and shaped by its urban and global settings.
About Lilly Endowment Inc.: Lilly Endowment Inc. is an Indianapolis-based private philanthropic foundation created in 1937 by three members of the Lilly family – J.K. Lilly Sr. and sons J.K. Jr. and Eli – through gifts of stock in their pharmaceutical business, Eli Lilly & Company. The Endowment exists to support the causes of religion, education and community development. Lilly Endowment's religion grantmaking is designed to deepen and enrich the religious lives of American Christians. It does this largely through initiatives to enhance and sustain the quality of ministry in American congregations and parishes.