Previously a Humanist chaplain at Harvard and Yale, Stedman now a Sabo Fellow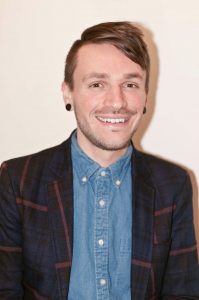 (MINNEAPOLIS) — Interfaith activist and author Chris Stedman '08 joins Augsburg College as a fellow of the Martin O. Sabo Center for Democracy and Citizenship where he will facilitate and build new community partnerships for non-religious and interfaith civic engagement. Stedman also will consult on the development of interfaith engagement programs at Augsburg.
"We are excited to welcome Chris back to Augsburg where his interfaith work began nearly a decade ago as an undergraduate," said Augsburg College President Paul Pribbenow. "Chris returns to us a successful author and a national leader and thinker on the Humanist movement. His work as a Sabo Fellow is testament to our commitment to interfaith dialogue so needed in our ever-diversifying society."
Stedman's work with the Sabo Center comes at an important time in Minnesota given the state's rapidly increasing diversity of faiths combined with the growing number of "nones," also known as religiously unaffiliated, and the nonreligious. According to Pew Research Center, 23 percent of adults as of 2015 identified as "nones."
The College's continued commitment to and teachings on civic engagement — the practice of building skills and knowledge needed by individuals to navigate and engage in policy making that impacts their lives at local levels including churches, schools, townships and cities, and beyond — is of great importance to ensure an informed, engaged electorate.
"I'm excited to help shape deep discussion between the growing nonreligious community — especially among young people — and people of faith so that we can find common ground and work together for the common good," Stedman said. "It's critical to society to engage with one another in thoughtful, meaningful ways and being a Sabo Fellow will allow me to begin that work for a College I love in the state I'm glad to call 'home'."
In addition to Stedman's service as a Sabo Fellow, he returns to the Twin Cities as the first-ever director of the Humanist Center of Minnesota. This new center is supported by a growing group of collaborating institutions including the Humanist Institute, First Unitarian Society of Minneapolis and the Humanists of Minnesota. It will be dedicated to partnership and community building through a Humanist worldview that brings compassionate action to the forefront.
About Stedman: Previously a Humanist chaplain at Harvard University, Chris Stedman currently serves as a fellow at Yale University's Silliman College and as the first executive director of the Yale Humanist Community. He is the author of "Faitheist: How an Atheist Found Common Ground with the Religious," "an intimate and deeply affecting portrait… [that] proves [he is] an activist in the truest sense and one to watch" (Booklist, Starred Review). Stedman holds a summa cum laude B.A. in Religion from Augsburg College (with minors in English and Social Welfare) and an M.A. in Religion from Meadville 
Lombard Theological School at the University of Chicago (with dual concentrations in Pastoral Care & Counseling and Religion & the Arts).
About Augsburg College: Augsburg College offers more than 50 undergraduate majors and nine graduate degrees to nearly 3,600 students of diverse backgrounds at its campus in the vibrant center of the Twin Cities and the Rochester site. Augsburg educates students to be informed citizens, thoughtful stewards, critical thinkers, and responsible leaders. An Augsburg education is defined by excellence in the liberal arts and professional studies, guided by the faith and values of the Lutheran church, and shaped by its urban and global settings.