Patrice Salmeri named Executive Director for Recovery Advancement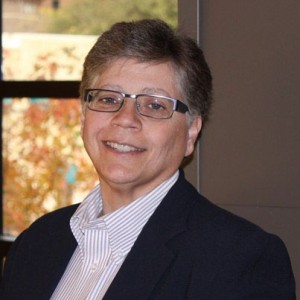 (MINNEAPOLIS)—Students across the nation who seek to live in recovery from substance use disorders will have greater opportunities for success thanks to the generosity of donors to the Augsburg College StepUP® Program.
"This is a pivotal moment for students in recovery across the nation and how we serve them," said Augsburg College President Paul C. Pribbenow. "We are poised to leverage our 20-year national reputation as the gold standard in collegiate recovery in enhanced ways: to encourage and shape how other colleges and universities throughout the nation support young people in championing lives of recovery, to work to effect policies and programs that will staunch the opioid epidemic gripping our nation, and to reduce the stigma associated with addiction so that young people can lead lives of meaning."
The College appointed Patrice Salmeri to the donor-endowed position as Executive Director for Recovery Advancement of StepUP to bring to fruition the strategic priorities of the StepUP Advisory Board and College. In her new role, effective June 2017, Salmeri will work to:
Reduce stigma associated with substance use disorder recovery by advising on and shaping policy issues among state and federal government agencies and offices, nonprofits and community organizations, and professional associations.
Advise the Augsburg College president on issues and resources related to support for student recovery.
Support and inspire other colleges and universities across the nation to provide recovery programs modeled after Augsburg's successful, 20-year-old StepUP Program.
Develop and pilot programs for students who have graduated from or left the StepUP Program but still have coursework to complete.
Work with StepUP Program alumni to understand long-term positive effects of living in a recovery community during college and connect soon-to-graduate students with program alumni.
A search is underway to fill the position of Director of StepUP, previously held by Salmeri.
About Patrice Salmeri: The StepUP Program director since 2002, Salmeri has led StepUP Program growth from 30 students per year to over 100. Salmeri is recognized nationally as a leader and champion of recovery, is an expert on residential collegiate recovery, and is a sought-out national speaker on substance use disorder issues related to young people.
About Augsburg College and the StepUP Program: Augsburg's StepUP Program, founded in 1997, helps students sustain their recovery, achieve academic success, and reach a level of thriving as a community. This successful program has been generously supported by donors who are alumni, parents and friends of Augsburg and who provide annual support through a gala and other donations and by creating endowed funds to support students.
Augsburg College offers more than 50 undergraduate majors and nine graduate degrees to nearly 3,600 students of diverse backgrounds at its campus in the vibrant center of the Twin Cities and its site in Rochester, Minn. Augsburg educates students to be informed citizens, thoughtful stewards, critical thinkers, and responsible leaders. An Augsburg education is defined by excellence in the liberal arts and professional studies, guided by the faith and values of the Lutheran church, and shaped by its urban and global settings.
—END—