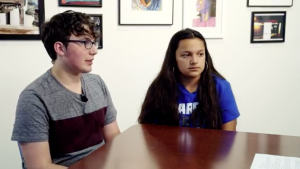 Kare 11's Jana Shortal interviews Marshall Steele, from Central High School, and Sandy Bolton, from Roosevelt High School, about civil debate. Both students attended Augsburg's Minnesota Urban Debate League summer camp, a program which provides resources and programming to support competitive academic debate at Twin Cities high schools and middle schools.
How can emotion and civility co-exist? Shortal asked. "Try to understand people's points even if there's something you fundamentally disagree with," Bolton said. "There are backgrounds that lead to people having opinions that are insensitive but have fundamental reasoning behind them that you have to understand in order to engage with them well."
See the full interview on Kare 11's website.