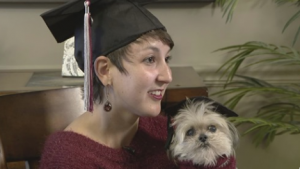 Olivia Maccoux '19 spoke with Kare 11 about her journey to graduation after 140 brain surgeries. Maccoux lives with a rare condition called hydrocephalus, which causes fluid to build on the brain. "College graduation to me is a big deal," she told Kare 11. "The doctors didn't believe I'd make it past birth."
On May 10, Maccoux graduated with honors from Augsburg, a day she thought would never happen. During her freshman year in college, she had a seizure in her dorm room and had to drop out of school for a time. Aside from her family and friends, her neurosurgeon was also present at the U.S. Bank Stadium commencement ceremony. She credits him for why she was able to graduate and now wants to build a career sharing her story with the world. Her experiences have given her a purpose to advocate and be a voice for those with invisible illness and disabilities. Recently, Maccoux spoke at a fundraising event in Hollywood, California, with comedian Conan O'Brien, where she helped raise $300,000 by sharing her story. "Just because you have not so great circumstances doesn't mean your life is over" she told Kare 11.
See the full story at Kare 11's website.