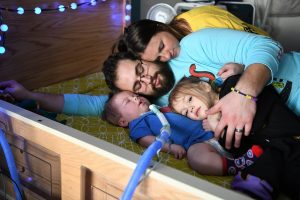 The New York Times recently featured Crescent Cove, Minnesota's first children's hospice home that specializes in end-of-life care for families with dying children. Crescent Cove was founded by Augsburg alumna Katie Lindenfelser, who majored in music therapy.
The hospice is a peaceful place for kids and parents to spend their last days together, with a 24-hour watch of specialized nurses, aides, and volunteers. This idea came about when Lindenfelser was a music therapist working with terminally-ill children in an intensive-care unit. Many parents expressed interest in a hospice home for their own sick children so that they wouldn't have to die at home or at a hospital.
The article provides insight into the lives of the families who have used Cresent Cove and how the hospice came to be.
Read the full article at The New York Times website.