(Minneapolis) — Augsburg University is installing in AugustEach, Together, a Group Action of the INSIDE OUT Project, started by French street artist JR, that will include over 1,200 portraits. This installation in honor of Augsbug's upcoming sesquicentennial will cover 10 campus building facades along Riverside Avenue.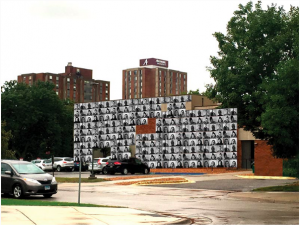 Members of the media are invited to Augsburg on August 6 to photograph the installation as well as for interviews with the project's lead organizer Associate Professor Christopher Houltberg. 
Expected to be the largest such project in the Twin Cities area, these portraits will create a tapestry of faces that celebrate, recognize and honor the people of Augsburg University over the past 150 years. Each of the 1,229 students, faculty, alumni, and staff will ultimately be present together.
Installation will take four weeks to complete along Riverside, beginning at Foss Center on 22nd and moving toward 25th Avenue South. These buildings will include the Flower Shop, Maintenance Facilities, Ice Arena, Anderson Music Hall, and Foss Center. 
Founded in 1869, Augsburg's year-long sesquicentennial celebration launches in September 2019.
On August 6, media members are invited to interview Associate Professor Christopher Houltberg and photograph or videotape installation as it begins.
For details, contact: Gita Sitaramiah, Director of PR and Internal Communications. sitarami@augsburg.edu or 612-330-1476.
About Augsburg. Augsburg University offers more than 50 undergraduate majors and 10 graduate degrees to 3,400 students of diverse backgrounds at its campus in the vibrant center of the Twin Cities and nearby Rochester, Minnesota, location. Augsburg educates students to be informed citizens, thoughtful stewards, critical thinkers, and responsible leaders. An Augsburg education is defined by excellence in the liberal arts and professional studies, guided by the faith and values of the Lutheran church, and shaped by its urban and global settings. Learn more at Augsburg.edu.