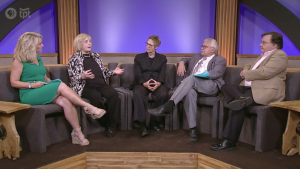 Jeanne Boeh, professor of economics and business department chair at Augsburg University, was recently a featured panelist on the weekly TPT news program, Almanac.
She provided commentary about trade, tariffs, and middle-class debt.
The panel included Boeh as well as a professor of economics from the College of Saint Benedict and Saint John's University and the dean of the University of St. Thomas Opus College of Business.