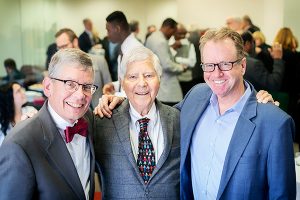 The new program director of Urban Investors at Augsburg University, Mike Christenson, was previously a key member of former Minneapolis Mayor R.T. Rybak's administration, Twin Cities Business reported.
Urban Investors, which recently moved to Augsburg, creates experiential learning opportunities for bankers and finance professionals who spend a year learning about urban issues to catalyze investment and community development that moves families out of poverty, revitalizes neighborhoods, improves schools, and builds economic opportunity. More information about the program can be found at this blog post published by Augsburg's Sabo Center. 
Christenson told Twin Cities Business that he plans to work with students interested in banking careers and connect them to bankers in Urban Investors as well as other bankers he knows. "Business is one of the top majors at Augsburg," Christenson said in the article. "Many Twin Cities-based banks "are getting white male candidates" for open positions, and they want to diversify their workforces. It's very exciting for me to be involved in something that develops the next generation of leadership."
Read the full article at the Twin Cities Business website.