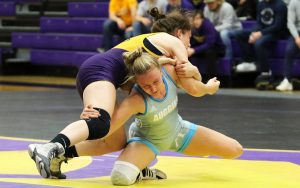 Augsburg's brand new women's wrestling team is already getting noticed.
"I feel like there's a lot of stigma that it's not a girls sport," Bel Snyder '23 told Mpls.St.Paul Magazine. "That it shouldn't be that rough or anything. But I don't think people understand that most of the time girls aren't wrestling to make a statement about girls doing something. It's not supposed to be like that. You're wrestling because you want to be a wrestler."
The article highlights the struggles that the team members faced growing up playing a sport that is generally associated with men. These Auggies are already breaking down barriers in the sport. Read the full article on the 
Mpls.St.Paul Magazine website.