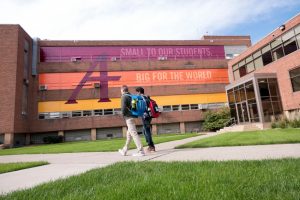 The Chronicle of Higher Education highlighted Augsburg University as one of the colleges that met its enrollment goals this year by "paying attention to the changing diversity of Minnesota's population and recruiting a correspondingly diverse student body."
"We wanted to enroll an intentionally diverse mix of students in part because we thought that it would offer a richer academic experience for all students," said Augsburg's Provost and Chief Academic Officer Karen Kaivola, in the article.
Augsburg's current first-year class is the largest and most diverse ever. For the past three years, more than half of Augsburg's incoming class have been students of color. The article notes Augsburg's efforts to recruit minorities, such as working with organizations like Act Six, College Possible, and the recent hiring of a "chief inclusion officer" to help navigate conversations on campus about race and diversity.
Read the full article at The Chronicle of Higher Education website.
Related articles:
Augsburg University's Largest, Most Diverse First-Year Class Serves Community on First Day of School