WCCO's Reg Chapman interviewed Augsburg students about One Day in May, the theme of this year's virtual commencement and a historic call for change at the university.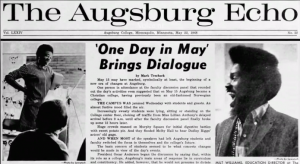 One Day in May was a response to the assassination of Dr. Martin Luther King Jr.
During One Day in May, classes were canceled and the Augsburg community participated in a series of workshops and lectures about racism.
"When we look at the number of students of color that we have now and the beautiful diversity that we have on this campus, we have to remember the significance of One Day in May," said Director of Pan-Afrikan Student Services Hana Dinku, during the WCCO interview.
The Augsburg experience is supported by an engaged community that is committed to intentional diversity in its life and work. More than half of Augsburg's traditional day students during this academic year were students of color and last fall's first-year class was the most diverse in the institution's history.
Watch the full report at the WCCO website.
Learn more about One Day in May.
See info about the Virtual Commencement 2020.