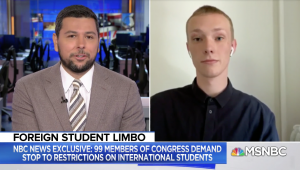 Augsburg international student Jonas Bergmann was interviewed by MSNBC to share his reaction to plans to deport international students taking an online course load in the fall. Bergmann is an international student from Denmark and is part of an Augsburg team that helps international students have a smooth transition to university life in the United States.
Bergmann, who's majoring in clinical psychology and gender studies, wondered why now, though the administration soon after this interview dropped the deportation plan. Augsburg plans a mix of on-campus and alternative format classes.
Watch the full interview at the MSNBC website.