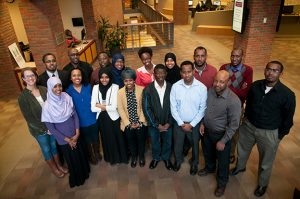 As Minnesota gains its first Somali public school principals, an Augsburg University program is actively helping to increase East African educators here.
Located in Minneapolis' largely Somali Cedar–Riverside neighborhood, Augsburg's East African Student to Teacher (EAST) program is committed to recruiting, retaining, and licensing highly qualified East African students who wish to become K-12 teachers. EAST covers tuition costs towards initial licensure.
"In a relatively short time, we've been able to multiply the number of educators of East African descent in the state of Minnesota from a handful to a bit of a larger handful," EAST Program Director Audrey Lensmire told the Sahan Journal. Lensmire is an associate professor in the education department.
Read the full article at the Sahan Journal website.
Learn more about Augsburg's EAST program.